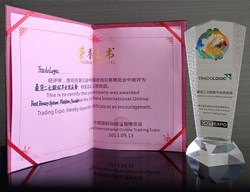 (PRWEB UK) 21 September 2013
TRADOLOGIC was recently honored with the award Best Binary Options Provider that once again proved the company's leading position in the binary world. It was a pleasure for TRADOLOGIC to be part of the CIOT EXPO China which took place on 13-14 September in Shenzhen. This major event gave TRADOLOGIC the chance to meet potential clients from Asia and introduce them the company's innovative binary trading products.
TRADOLOGIC has been focused on the Chinese market for a while, as part of the company's strategy for global expansion. After a research into the Chinese market, TRADOLOGIC was able to create customized products for the Asian market. The company's team was glad to have the opportunity to introduce at CIOT the products that were designed specifically to meet the needs of Asian investors.
TRADOLOGIC is dedicated to offering the best binary options products and providing the top services to the company's numerous clients. TRADOLOGIC's team constantly develops new products that meet the demands of the dynamic financial trading market. TRADOLOGIC is a major exhibitor at leading FOREX and online trading expos where the company presents its innovative products and shares binary knowledge with partners. By the end of the year, TRADOLOGIC will participate in three more expos in China and will meet Chinese prospective clients.
About TRADOLOGIC: TRADOLOGIC is the world's leader in the financial trading industry with technology built specifically for the binary options trading market. TRADOLOGIC's team pioneers in the binary option trading field and possesses a first-hand insight and deep knowledge about the financial trading industry. Currently, the company offers its clients a variety of products including option types, trading tools, advanced features, integration solutions and services that deliver outstanding trading experience and optimized user value.
About CIOT EXPO: The China International Online Trading expo is a well-known event in Chinese trading communities. The expo is renowned among FOREX and binary brokers as well as technology providers and investors who attend the event to get updated with the latest innovations in the financial trading industry.