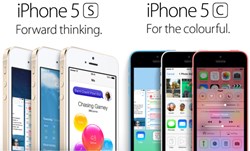 The retail price difference between the iPhone 5S and 5C is only £100, however this makes a great deal of difference when it comes to contract deals
(PRWEB) September 19, 2013
Apple recently launched their new iPhone models; the iPhone 5S and 5C at a press event that had Apple fans and avid mobile users full of expectation.
UK retailers have been quick to add pre-order deals to their inventory in a bid to beat the competition which has resulted in Phones Limited being able to compare contract deals for both the iPhone 5C and 5S on their price comparison website.
From a consumer standpoint, this gives a great early indication of the prices they'll be paying for the new iPhones and an insight into exactly how much they can expect to pay for iPhone 5S and 5C contract deals.
Retail partners of Phones Limited are continuing to add in new pay monthly offers for these two new iPhone models to their data feeds which is then used to compare prices on the website, this includes all of the new colour schemes for the iPhone 5C which are pink, green, blue, yellow and white as well as the iPhone 5S in space grey, gold and silver plus their memory variants of 16GB, 32GB and 64GB capacity.
Phones Limited has already been able to compare iPhone 5C contract prices for both the 16GB and 32GB models in all colours across the UK networks including O2, Orange, T-Mobile, EE, 3 Mobile and Vodafone resulting in a database of over 300 individual pay monthly tariffs and over 1000 deals compared.
You can find iPhone 5C deals here and iPhone 5S deals here.
The retail price difference between the iPhone 5S and 5C is only £100, however this makes a great deal of difference when it comes to contract deals, retailers are able to offer the 5C as a free handset for as little as £31 line rental per month whereas a free iPhone 5S has a cheapest monthly price tag of £42 which equates to a £264 difference over the minimum term 24 month contract period.
Phones Limited is still busy correlating new deal data as the retailers and networks upload their deals for these new phones, consumers can expect delivery of their pre-ordered iPhone on or after September 20th as stock is received.
Asked about the release of these two new phones, operations manager Andrew Ramsey explained, "We're all very excited about the new iPhones, they have been creating such a buzz online for months and to finally see contract deals being released daily is keeping us on our toes!"
About the iPhone 5C
The simplest way to describe the new iPhone 5C is an iPhone 5 in a new brightly coloured casing with some added features and enhancements.
Apple have stuck with their sharp four-inch Retina Display dictating overall dimensions of 124 x 59 x 9mm, the camera remains at eight mega pixels although has new filters and apps included whilst the front facing 'FaceTime' camera is now high definition.
On the inside is the new iOS7 software along with a better battery life of up to 10 hours on 3G and 250 hours standby plus Apple have cleverly matched the home screen colours to that of the exterior casing for added personalisation.
About the iPhone 5S
A direct upgrade to the previous iPhone 5, the 5S adds in a new 64 bit A7 processor with a dedicated motion chip, the new iOS7 plus an enhanced eight mega pixel camera with a larger aperture, slow motion capture and dual colour LED flash all squeezed into a very similar footprint of 123.8 x 58.6 x 7.6 mm.
The most talked about new feature is a fingerprint scanner on the home button which opens up a whole host of security uses including app purchasing mobile banking and of course to simply unlock the phone.
About Phones Limited
Established in 1999, a price comparison website for mobile phone deals and prices across contract and pay-as-you-go options to buy.
Phones Limited is partnered with over 20 of the leading mobile phones retailers and networks generating a choice of over 700,000 consumer deals which are compared twice daily.