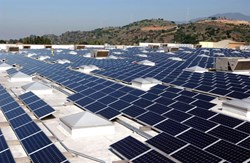 (PRWEB) September 19, 2013
SolarReviews.com proudly announce that Peak Solar of Hillsboro Beach, Florida has earned the coveted accreditation of 2013 SolarReviews Pre-Screened Solar Pro.
Achieving the status of Pre-Screened Solar Pro must truly be earned. It is estimated that less than 20% of solar installers can achieve this accreditation. In order to qualify, installers must meet strict eligibility requirements, including a minimum number of years in business, earning a minimum number of reviews, achieving an excellent customer rating, and passing a thorough background check.
"To earn the Pre-Screened Solar Pro status is quite an achievement," said Jesse Truax, VP, Marketing & Business Development at SolarReviews. "It reflects an ongoing commitment by Peak Solar to provide an excellent solar experience for their customers."
SolarReviews is the leading consumer reviews website in the solar industry, with over 10,000 consumer reviews on solar installers nationwide. The popular site is free for consumers and easy to use. Simply search the zip code of your property, read ratings and reviews of installers that serve your area, and request a free, no-obligation quote from the solar installer that best fits your needs. SolarReviews has more than 3,000 solar installer partners nationwide, so it's highly likely that you'll find a solar installer in your area.
Peak Solar is a regional expert in solar development and engineering as well as a leading supplier of grid tied solar kits. Providing turnkey PV systems for residential, commercial and industrial applications, Peak Solar has developed systems from the home consumer to corporate energy development parks.