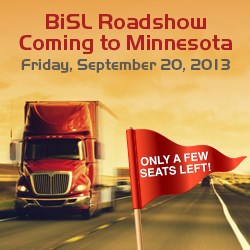 (PRWEB) September 19, 2013
Quint Wellington Redwood, announces the first stop of the Global Information Management Roadshow introducing BiSL to the US Market. The first stop of the BiSL Roadshow takes place Friday, September 20, 2013 at Pinstripes on Gallagher Road, Edina, MN. There are two sessions planned for the event- 8:30 AM to 1:00 PM and Noon to 5:00 PM with a group luncheon to include SME's, all attendees from both sessions, as well as the event presenters.
The Roadshow is an initiative of the not for profit ASL BiSL Foundation and is sponsored and supported by AMPG International, GamingWorks, itSMF USA, Quint Wellington Redwood, and Van Haren Publishing.
The event offers participants the chance to experience the dynamics of how Information Management interacts with both the Business and IT Service Management. This unique program features an exclusive simulation called Bookstore® from GamingWorks, makers of The ABC's of ICT® and the popular Apollo 13® Simulation game.
The game will be conducted by Mark Smalley on behalf of Quint Wellington Redwood, sponsors of the event. Mark also works for the ASL BiSL Foundation and APMG International and is a regular speaker at international conferences. He will start off the Roadshow with a short presentation about trends in the industry. After the simulation, he will relate your experience during the game to the BiSL framework, putting things in a theoretical perspective. The session will finish with an overview of how the various Global Information Coalition partners can help you improve your organization's performance in the increasingly important Information Management domain.
There is no cost to attend the event, however registrations are required. Register Now!
About Quint Wellington Redwood
Quint Wellington Redwood – Quint – is a leading global independent consulting firm dedicated to resolving IT-related organizational challenges. Operating in more than 49 countries and across four continents, Quint provides strategy, sourcing and service management to leading organizations, creating and implementing best practices worldwide. The firm's portfolio of services includes Consulting, Benchmarking and Education, integrated across the domains of business and IT.