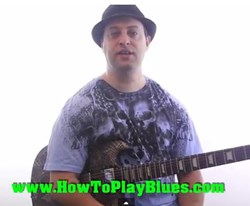 (PRWEB) September 18, 2013
"Blues Guitar Lesson -- What is a Blues Turnaround" is the latest YouTube video from Guitar Control, the leader in comprehensive DVD-based courses and free web-streamed video lessons. This video is part of Claude Johnson's series of Beginner Blues Lessons that in addition to standing on their own also serve to introduce beginning players to his more substantive lessons, available at GuitarControl.com and HowToPlayBlues.com.
A12-bar blues, is a form of the blues where the melody progresses over twelve divisions (bars) in the music's notation. A turnaround is the musical bridge that returns the melody from the notes of the twelfth bar back to the opening statement of the first bar, creating a seamless transition that keeps the music moving. In addition, a turnaround can be used as the punctuation that signals the start, or the end, of an improvisational solo. Turnarounds are an integral part of the blues, but they are also commonly used in Jazz and Rock.
In this video, Claude Johnson, the founding Father of Guitar Control, explains the concept of the blues turnaround and demonstrates several variations on that concept. This video is more a demonstration than an actual lesson, in that there is no detailed instruction involving fretting patterns or picking styles. However, beyond illustration and inspiration, its purpose is to to set the stage for the next video in the series, where Claude teaches a very simple 4 note turnaround that novice players can use right away.
The creator and driving force behind Guitar Control, Claude Johnson is a consummate player and an enthusiastic and encouraging instructor. His Guitar Control courses cover the entire spectrum of guitar techniques and genres. His latest DVD course, aimed at more advanced players, is "Supercharged Soloing Made Simple."
Guitar Control is a consortium of professional guitarists dedicated to providing the highest quality musical instruction. Producing both web-streamed lessons and comprehensive multi-DVD courses, Guitar Control offers instruction for every style of playing and for all musical genres. Guitar Control's YouTube channel offers 394 (and counting) free video lessons.
These easy-to-follow Beginner Blues Lessons on YouTube provide an excellent introduction for novice players. As their name denotes, these lessons are (individually) elementary in subject matter and narrow in scope. But that does not diminish their value. Now, as the song goes: "You've had your first lesson in learning the blues."