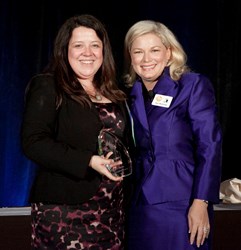 The security community in Canada is already highly collaborative and successful, so we saw this new initiative as a perfect fit.
ATLANTA, GA (PRWEB) September 20, 2013
T.E.N., a technology and information security executive networking and relationship-marketing firm, announced Thursday that Della Shea, chief privacy and information risk officer for Symcor Inc. was selected as Canada's first Information Security Executive® of the Year.
Shea is responsible for overseeing the company's Privacy, Records Management, and PCI DSS compliance programs and providing strategic direction on all matters relating to information management throughout the organization. With more than a decade of experience in the fields of privacy and security, she is known for her keen ability to move from vision to execution, her collaborative and results-driven approach to solving business problems, and her inspirational leadership style, which values the contributions of each and every team member.
Ray Archer, senior vice president and chief information security officer for Scotiabank, and Kenneth Haertling, vice president and chief security officer for TELUS, were named finalists for the ISE® Canada Award. Other nominees included Edward Kiledjian, chief information security officer for Bombardier Aerospace, and Bobby Singh, associate vice president for TD Bank Group.
Additionally, Singh was honored as the ISE® Canada People's Choice Award winner. This award represents the nominee who best exemplifies information security leadership as voted on by his peers in information security.
The ISE® Canada Awards recognize both information security executives and projects for outstanding achievements in risk management, data asset protection, compliance, privacy and network security.
Shea and Singh, along with other ISE® Canada Executive nominees and the team representing Scotiabank's ISE® Celebrated Project, were honored Thursday during the Inaugural ISE® Canada Executive Forum and Awards Gala at the Sheraton Centre Toronto in Toronto, ON.
"We were honored to have so many of the industry's finest minds involved in our inaugural event," said T.E.N. CEO & President Marci McCarthy. "The security community in Canada is already highly collaborative and successful, so we saw this new initiative as a perfect fit. We have been facilitating collaborative forums and celebrating the accomplishments of security industry visionaries across North America for more than a decade, and we believe it was time for a unique event to highlight the best of the best in Canada."
The 2013 ISE® Executive Forum featured special presentations and dynamic roundtable discussions focused on industry hot topics, such as BYOD, cyber terrorism, cost-effective PCI Compliance, the evolving role of the CISO, and the importance of embedding security throughout the enterprise. The inaugural event was made possible by gigabyte sponsor, Adobe; kilobyte sponsors, HP Enterprise Security, NetIQ, Qualys, Stonesoft and Symantec; display sponsors, AirWatch and Cigital; and association sponsor, the Canadian Security Partners Forum. For more information about T.E.N. and ISE® Programs, visit http://www.ten-inc.com and http://www.iseprograms.com.
About T.E.N.
T.E.N., a national technology and security executive networking organization, facilitates peer-to-peer relationships between top executives, industry visionaries and solutions providers. Nominated for numerous industry awards, T.E.N.'s executive leadership programs enable information exchange, collaboration and decision-making. Its flagship program, the nationally-acclaimed Information Security Executive® (ISE®) of the Year Program Series and Awards, is North America's largest leadership recognition and networking program for security professionals. Other offerings include the T.E.N. Custom Programs and the ISE® Industry Expert Advisory Services, empowering IT solutions providers to gain access to highly credentialed IT business veterans' expertise. For information, visit http://www.ten-inc.com and http://www.iseprograms.com
About ISE® Award Program Series
For more than a decade, the Information Security Executive® (ISE®) of the Year Award Program Series has empowered security executives and their project teams to Connect, Collaborate and Celebrate. Recognized as the industry's most prestigious IT Security award program, it has become the most anticipated award program for security executives and their project teams. Winners have included executives and project teams from leading organizations such as Nike, The Walt Disney Company, the United States Postal Service, Schlumberger, Texas Instruments, JPMorgan Chase & Co., Equifax, Comcast, PayPal, Northrop Grumman Corporation, and Nationwide.
Our distinguished ISE® Judges are past nominees representing a cross section of industries, including commercial, government, health care and academic sectors. For this reason, the ISE® Awards represent the best achievements of the year as evaluated by those regarded as the industry's most influential and successful thought leaders. Coupled with a one or two-day executive summits, the ISE® Awards are held across the U.S. and Canada in major cities including Atlanta, Dallas, New York, Toronto, San Francisco and Washington, D.C. The ISE® Awards Program Series has reached more than 10,000 executives across a broad range of industries and has been a major influence in executives' careers, knowledge sharing, and the development of peer-to-peer relationships.