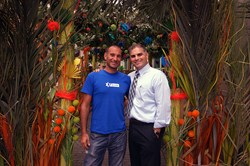 We look forward to showcasing the artistry and creativity that exists within the global Jewish family and invite Jews who are proud of their sukkahs to show them off.
New York, NY (PRWEB) September 18, 2013
With the holiday of Sukkot fast approaching, The Jewish Agency for Israel has launched Sukkathon 2013, an online contest to identify the world's most beautiful and innovative Sukkah.
A sukkah is a temporary hut constructed for sharing meals during the Jewish festival. It is typically designed with harvest or Jewish themes and symbolizes the protection that God provided the Israelites as they wandered in the desert following their exodus from Egypt.
For Sukkathon 2013, the Agency encourages Jews around the world to send pictures of their sukkahs to number1sukkah(at)gmail(dot)com or tweet it to @Jewishagency hashtag #number1sukkah.
All submissions must be received by 11 a.m. ET on September 23.
Winners will be announced on Wednesday, September 25. The Agency has assembled a judging panel that includes an internationally recognized architect, an art critic and an artist. The judges are:

Pam Davidson was a principle architect in Cape Town before making Aliyah. She helped design the FIFA World Cup Stadium and the South African Heritage Storage Museum, as well as residential and municipality projects in Israel. She blogs about architecture and Israel at http://www.plusarchitecture.me
Julia Weiner has been the Jewish Chronicle's art critic since 1993. She also works as a lecturer in art history at Regent's University London, on the education staff at the Victoria and Albert Museum, and advises the London Jewish Cultural Centre on their exhibition programs.
Betina Schnaid emigrated to Israel from Brazil in 2011. She holds a BA in Fine Arts and a Masters in Graphic Design, and represented Israel at the first London Art Biennale in 2013.
"Sukkot celebrates the warmth felt by members of the Jewish community as they gather for meals in these intimate settings," said Tali Aronsky, The Jewish Agency's director of communications in North America. "We look forward to showcasing the artistry and creativity that exists within the global Jewish family and invite Jews who are proud of their sukkahs to show them off."