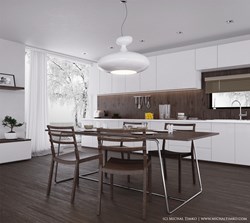 The choices seem endless, but with a design plan, choosing can be made easier.
Toledo, OH (PRWEB) September 20, 2013
This article will explore ways to bring your kitchen up-to-date with modern materials and design. Whether your kitchen is decades old or just needs a few transformations, the following advice from MR Direct will help guide you to the complete modern space your kitchen craves. With new colors, countertops, flooring and accessories, any kitchen can be brought into present-day design.
Start from the ground up. If your kitchen is still sporting those lovely linoleum tiles that are original to the 1960's design, it's time to give them the boot. Selecting a flooring material is one of the most vital decisions to make when updating a room in the home. Since it covers most of the room's area, it is important to choose a floor that will please the eye and be cohesive to the overall design. Modern flooring includes materials such as dark hard wood floors, bamboo flooring, contemporary tile, stone or engineered wood. These materials not only look great, but they will boost the value of your home.
Countertops are the next focal point of the kitchen and a very important asset to the form and function of the space. There are many alternatives to the dingy old laminate or vinyl countertops our mothers had in their kitchens. Engineered stone, natural stone, solid surface, concrete and stainless steel are just a few options for countertops that are popular in modern kitchens. The choices seem endless, but with a design plan, choosing can be made easier.
Modern fixtures such as updated lighting or cabinet hardware can really bring the modern renovations into fruition. Sleek pendant lights above an island or eating nook will not only provide extra lighting, they will also create ambiance for entertaining. Recessed can lights are also a great way to provide modern illumination in the space while hiding the electrical components. Contemporary handles and knobs on all cabinets not only look great, but they are practical pieces of hardware that offer many different design styles, shapes and sizes for every home owner.
Last, but not least, are the colors and accessories that fill the space. In a kitchen, less tends to be more. A cluttered kitchen can be difficult to work in and may even become a safety hazard. Simplify the space by bringing in only a few pieces of contemporary furniture (table, chairs, buffet) and minimal accessories. Painting the walls or cabinets a neutral color and adding splashes of saturated color with chair upholstery or decorative vases can really give the space a clean, fresh look.
With these simple tips, your kitchen will receive a modern face-lift that will provide practical design and customized beauty in the heart of your home.