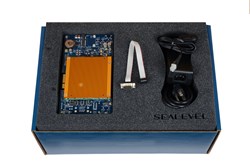 Liberty, SC (PRWEB) September 19, 2013
Carrier Board Features

COM Express Type 6 reference carrier board
Supports Basic and Compact Type 6 COM Express modules that are compliant with PICMG COM Express Revision 2.0
Two 220-pin COM Express Type 6 connectors
Two Gigabit (10/100/1000BaseT) Ethernet RJ45 ports
Four high-retention Type A USB 2.0 ports; one 5-pin USB 2.0 header
Two DB9M RS-232 serial ports; one 10-pin header for RS-485 serial interface
Mode select jumper for RS-485 auto-enable/Echo
One DisplayPort interface
One SATA connector (module dependent)
Onboard diagnostic LEDs for board power and SATA activity
18-36VDC input power range (fused at 30A) with Molex (39-01-2040) mating connector
COM Express Module Features
COM Express Compact Type 6 connector layout
Includes 1.8GHz Intel Atom N2800 dual-core processor
Maximum 4GB DDR3 1066MHz RAM via 204-pin SODIMM (4GB Installed)
Integrated Intel NM10 Express chipset CG82NM10 PCH, TDP 2.1W
Integrated Gigabit Ethernet controller
I/O interfaces can include up to 5x PCI Express, 2x SATA II, 8x USB 2.0, 3x USB 3.0 (optional, uses 1x PCIe lane), LPC bus, I2C bus (fast mode, 400kHz, multi-master)
Digital high definition audio interface with multiple codec support
Integrated graphics with two independent display pipes supporting DirectX 9, Pixel Shader v3.0 and OpenGL 3.0
Two Digital Display Interfaces (DDI), via 2x DisplayPort 1.1, TMDS (DVI, HDMI 1.3a)
CRT interface includes 350MHz RAMDAC with resolutions up to 1920x1200
Board controller includes multi-stage watchdog, non-volatile user data storage, BIOS setup data backup and power loss control
Embedded BIOS features AMI Aptio UEFI with 4MB serial SPI firmware flash
Supports ACPI 3.0 power management with battery backup
Supports Microsoft Windows and Linux operating systems
Wide temperature operation from 0-60C ambient
Sealevel Systems announces the 121004-KT, a QuickStart kit that provides everything design engineers need to get COM Express projects off to a fast start. Powered by a 1.8GHz Intel Atom N2800 CPU with heatsink and 4GB RAM, the QuickStart kit includes an integrated 2.5" 32GB solid-state disk. Standard features include five USB 2.0, two RS-232, one RS-485, dual Gigabit Ethernet, SATA, DisplayPort and audio interfaces. The QuickStart kit uses the same COM Express module and carrier board as the Sealevel Relio R2 and R3 industrial computers.
Sealevel's 121004-KT simplifies software development and prototyping while the target application carrier board is being designed. OEMs can take advantage of Sealevel's carrier board development services for the fastest time to market. Our extensive library of proven I/O circuits including serial, analog and digital functionality simplifies the design process and can be easily optimized to meet the specific I/O count, voltage ranges and connector types required for your application.
We also offer QuickStart kits using COM Express i3 and i7 modules. Extended temperature range versions are available for all versions.
ABOUT SEALEVEL SYSTEMS, INC.
Sealevel Systems, Inc., founded in 1986, provides industrial computing solutions in addition to a variety of communications and I/O products including PCI and PCI Express Bus cards, Ethernet serial servers, and USB serial adapters. The product line includes multi-port RS-232, RS-422/485, RS-232/422/485 multi-interface high-speed sync/async, and digital/relay I/O. For more information, visit http://www.sealevel.com or call +1 864-843-4343.