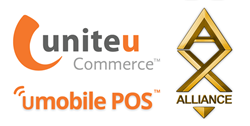 UniteU's retail convergence platform brings the alliance a solution that allows retailers to create a single point from which to interact with their customers...online and across every digital touchpoint.
Rochester, NY (PRWEB) September 18, 2013
UniteU Technologies announced today its partnership with the AX Alliance, a global professional consortium of retail experts created by Microsoft software distributor Retail Realm. The move provides new opportunities for multichannel retailers to access the technology and solutions needed to deliver state-of-the-art omnichannel experiences for customers.
The AX Alliance is an ecosystem of specialized partners who work with Microsoft Dynamics AX for Retail on a global scale to collaborate on complex contracts and deployments. UniteU brings the alliance a complete round-trip commerce solution that pulls data from Microsoft AX into its e-commerce engine, presents the data appropriately to digital channels, transacts and processes orders, then pushes those orders back into AX for fulfillment. The solution also enables enterprise-wide inventory visibility, along with "buy online and pick up in store" and other endless aisle functionalities.
"We couldn't be more pleased to have UniteU as part of the AX Alliance family," said Rachel Smith, Director of Sales for North America at Retail Realm, who also oversees the AX Alliance. "Fellow AX Alliance members will certainly benefit from UniteU's expertise in retail systems integration and from their team's in-depth e-commerce knowledge and experience."
The enterprise e-commerce platform provider most recently worked with their client Edwin Watts Golf, a premier specialty golf retailer with approximately 90 domestic locations, to help transition them from an enterprise resource planning (ERP) system they had outgrown to Microsoft Dynamics AX. UniteU worked as a consultant and technology expert for their client, facilitating a solution to get their new data structures over to the UniteU Commerce™ platform without disruption to online sales.
The process included rigorous testing of the data being populated into the platform and verifying its expected presentation on the front-end of their B2C main site, partner sites and their mobile commerce site. UniteU also worked to verify that search functions on the Edwin Watts sites were responding appropriately to the new data structures, based on the complex attributes associated with golf equipment. The project was completed within an impressive time frame, allowing Edwin Watts to migrate to the new AX business system that will allow them to scale as they continue to grow.
"We are very excited to work with fellow members of the AX Alliance to provide state-of-the-art omnichannel solutions to mid-market and enterprise retailers," said Mike Montrose VP of Marketing and Sales. "UniteU offers vast experience as both a retail systems integrator and as an e-commerce thought leader, leveraging the knowledge we've gained from our thirteen-year history working with multichannel retailers. This depth allows us to complete projects at an impressive pace, giving our partners and retail clients alike the ability to become more agile and competitive in their markets."
A SINGLE CUSTOMER INTERACTION PLATFORM
UniteU's retail convergence platform brings the alliance a fully Payment Card Industry (PCI)-compliant solution that allows retailers to create a single point from which to interact with their customers. UniteU Commerce acts as a unifying hub, connecting data sources and leveraging that data across channels and emerging technologies to create better shopping experiences online and across every digital touch-point. The most recent addition to UniteU's lineup has been the company's launch of a mobile point-of-sale application called uMobile POS™, which leverages the same connectors that the e-commerce platform uses. This new mobile point-of-sale offering allows retailers to provide more streamlined interaction with customers in their physical locations, empowering them to shop with and assist customers, and then check them out securely on-the-fly. Sales associates have access to important information such as a shopper's order history and other tools that allow them to provide a rich, personalized shopping experience.
ENTERPRISE-WIDE INVENTORY VISIBILITY
Not only has customer visibility across channels emerged as an important data set for retailers, but enterprise-wide inventory and availability by store location has proven highly effective in boosting customer service and streamlining operations. UniteU Commerce is able to ingest data related to a store's location and can report back to retail systems with accurate inventory counts based on those locations.
"We believe that our robust integration capabilities—which offer features such as enterprise-wide inventory views—will be of great value to the AX Alliance's partners," said UniteU CEO Soumen Das. UniteU has been integrating with Microsoft Dynamics Retail Management System (RMS) for years and Das said he is looking forward to leveraging both their RMS and Dynamics AX integrations with members of the Retail Realm community. He also cited the company's Retail API and software developer kit (SDK) for extensibility and integration with custom applications.
"We look forward to pooling our expertise and resources with other AX members to provide seamless digital commerce solutions to retailers," said Das. "We have a tremendous track record of helping our retail customers increase their operational efficiency, agility and overall profitability."
About UniteU Technologies (http://www.uniteu.com/): UniteU creates technology that enables unified commerce experiences across channels and devices. It is the industry leader at removing the complexity, risk and cost of enterprise e-commerce platforms so companies can focus on initiatives that drive growth across their digital, mobile and physical channels. UniteU offers a wide-range of solutions and services including uMobile POS™ and UniteU Commerce™, a smarter, faster cloud commerce platform that embodies more than a decade of omnichannel insights and high-volume experience. Superior technology and performance has resulted in an impressive client list that includes Pharmaca, Edwin Watts Golf, The Miami Heat, In-N-Out Burger, Shoe Station and City Sports.
About Retail Realm: For almost two decades multinational company Retail Realm has specialized in creating and managing a portfolio of vertical business software solutions that are marketed worldwide through a community of resellers. Retail Realm is a leading distributor of Microsoft Dynamics Retail Management System (RMS) and Microsoft Dynamics for Retail (AX). The company has also adopted additional add-ons and stand-alone products developed by leading companies that enhance or integrate with RMS and/or Dynamics for Retail (AX).
In 2012, Retail Realm formed the AX Alliance (http://www.rrdisti.com/axalliance), a global professional consortium of retail experts, consisting of Microsoft Dynamics for Retail (AX) POS partners, ISVs, academic institutions, and industry related associated members. The Alliances goal is to provide a platform whereby AX Alliance members combine their unique areas of expertise and experience to work collaboratively on the types of contracts that no single company could tackle on its own.
Contact sales(at)uniteu(dot)com or visit http://www.uniteu.com.