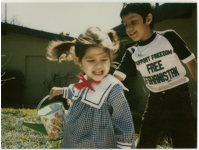 Palo Alto, CA (PRWEB) September 18, 2013
The 16th UNAFF (United Nations Association Film Festival) Individual to Universal presents a special screening of We Came Home. This poignant documentary tells the story of Afghanistan through Afghan American artist, Ariana Delawari. Born into a suburban Los Angeles home, the same year the Soviets invaded Afghanistan, Ariana's life unfolds parallel to the ever-changing events of her father's homeland. Her home is filled with refugee relatives, parties with live Afghan music and her father's fierce dedication to his homeland. Read more here
UNAFF 2013 will be held from October 17-27, 2013 in Palo Alto, Stanford University, East Palo Alto and San Francisco. The theme for 2013 is "Individual to Universal," and consists of 70 documentaries from all over the world, presenting issues with more timely stories than ever - from the streets in Afghanistan, Egypt, Iran, Syria to the topics about renewable energy, the impact of social media and cyberbullying, disappearance of online privacy, LGBT refugees and asylum, human trafficking and modern slavery, the ethics of photography and how The New York Times, Jewish-owned newspaper, buried more than one thousands articles about the The Holocaust during WWII.
Event Details
When: THURSDAY, September 19th, 2013
Where: World Affairs Council of Northern California
312 Sutter Street (between Grant and Stockton), Second Floor
San Francisco, CA
5:15pm Reception
5:45pm Press Conference
Introductory remarks by Founder and Executive Director Jasmina Bojic of UNAFF (United Nations Association Film Festival), who will present the festival trailer, program and filmmakers (Bay Area filmmakers present)
7:00pm Film Screening
We Came Home (81 minutes) Afghanistan/USA
Director: Ariana Delawari
Producer: Emily Lynch, Yasmine Delawari Johnson, Ariana Delawari
For more information, please visit UNAFF 2013 at: http://www.unaff.org
Press kits and screening schedules will be available on the web site after the Press Conference.
About UNAFF
Originally conceived to celebrate the 50th anniversary of the signing of the Universal Declaration of Human Rights, UNAFF was founded by Stanford educator and film critic Jasmina Bojic with the participation of the Stanford Film Society and the UNA Midpeninsula Chapter, a community-based nonprofit organization. As one of the oldest solely documentary film festivals in the US, UNAFF has grown and earned the respect of audiences and filmmakers alike for its fearless independence and integrity. For more information on UNAFF, please visit http://www.unaff.org.
###