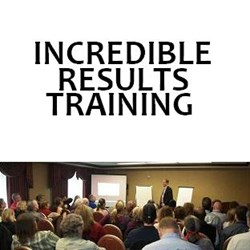 Business units that achieve hyper growth during any market condition focus on helping their teams trick their subconscious minds into wanting and needing to achieve new higher levels of survival.
Collingwood, Ontario (PRWEB) September 18, 2013
Called 'The Telescope Advantage' this system comprises both a customized revenue growth model as well as an advanced audio-based step by step sales training curriculum for all its participants. Due to the extensive use of cloud based technologies it also allows for real-time notifications and communications between sales directors, sales managers and other sales team members.
"Incredible Results Training has always provided premiere sales training services but is now able to provide Sales Team Performance Reviews, A Customized Sales Building Model and Advanced Sales Training as an All-in-One to our clients," stated Rob Canyon, CEO, Founder and Director at Incredible Results Training.
Cindy Lewis, Director of Programming also commented that "After helping a number of different business to consumer enterprises during the past two year beta period grow revenues like never before our position in the world wide sales tool and sales training market continues to grow stronger."
The Telescope Advantage is rolling out today to clients in both North and South America, will be available to European clients in early October 2013 and be launched into the Asia Pacific region before the end of the 2013.