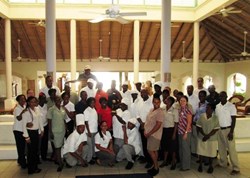 London, UK (PRWEB UK) 19 September 2013
Staff at Blue Waters were ecstatic as the World Travel Awards announced this year's winners. As stated on their website, the World Travel Awards 'serves to acknowledge, reward and celebrate excellence across all sectors of the global travel and tourism industry', and Blue Waters is honoured to have been considered in light of this.
This is the fifth time that Blue Waters has been the recipient of the 'Antigua and Barbuda Leading Hotel' award, having last won it in 2012.
Blue Waters has been hard at work this year, ensuring that its facilities are of an impeccable standard. Some of the hotel's recent improvements include a major refurbishment of the bathrooms, upgrading the luxurious Cove Suites and revamping both the Palm and Bartleys restaurants. These changes have since enjoyed great success and positive feedback, as resort guests can now enjoy their time at Blue Waters even more.
The Blue Waters resort is renowned for its luxurious facilities, including its expansive and decadent range of accommodation options. From its Luxury Suites to Hillside Villas, both of which boast their own private balconies and exceptional views, guests can expect unparalleled levels of service and hospitality from the welcoming staff at Blue Waters.
The resort also boasts a range of luxury villas and penthouses which are ideal for larger groups of family and friends. The Cove Penthouses enjoy unparalleled views of the Caribbean Sea, whilst both Pelican House and Turtle Cottage boast social dining areas and private pools with their own concierge service. Guests thinking about taking a family holiday will surely treasure the wealth of space which these villas and penthouses afford, whilst the warm and friendly hotel staff will make sure no stone lies unturned in the quest for the perfect Caribbean getaway.