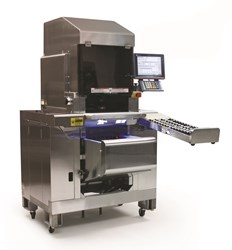 (PRWEB) September 18, 2013
Ishida and Rice Lake Retail Solutions announce the release of a new wrapper for North American retail marketers, the WM-4000, a fully automatic tray wrapper capable of speeds of up to 35 parts per minute. Unlike competing models, the WM-4000 offers an auto-sensing feature that automatically detects tray size, and pre-stretched film for improved package appearance.
The full-size WM-4000 brings users the convenience of an all-in-one wrapping station that also weighs and labels each tray. Ideal for grocers, specialty shops and retail suppliers, WM-4000's print and apply feature can also be modified to fit any package orientation. Learn more about Ishida's WM-4000 from Rice Lake Retail Solutions at http://www.ricelakeretail.com/wm4000.
Rice Lake Retail Solutions is a division of Rice Lake Weighing Systems, a family-owned, ISO 9001 certified corporation based in the United States. Headquarters, metrology laboratory and main manufacturing plant are located in Rice Lake, Wisconsin with support facilities throughout the world including North America, South America, India and the Netherlands.