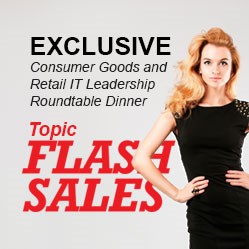 Winston-Salem, NC (PRWEB) September 19, 2013
Sunrise Technologies, ERP and BI consulting leader in the consumer goods and retail industries, will be hosting an exclusive roundtable dinner at Il Fornaio Italian Restaurant in Beverly Hills, California. The dinner will be Thursday, September 24, 2013 at 6:30 pm.
The roundtable discussion will be focused on the topic of flash sales and the various ways consumer goods manufacturers and retailers can increase profits and reach new customers. The President of Sunrise Technologies, John Pence; along with Cathy Hotka, Networking Consultant for Retail Leaders; and CIOs of world-wide brands, will lead discussions and engage the dinner party in various topics surrounding flash sales. Conversation will include, how to know if you have the right systems in place to hold a flash sale, reasons why you should have a flash sale, how to know what inventory to use in your flash sale.
"This is the first roundtable discussion we've hosted regarding Flash Sales," says Amber Kirkman, "There's a reason why Flash Sales are so trendy; they deliver great results to retailers and consumer goods manufacturers. We are really looking forward to hearing from everyone and sharing ideas. This is a perfect time for a discussion like this with the holiday season right around the corner."
Sunrise Technologies is an experienced supply chain consulting organization that provides Enterprise Resource Planning and Business Intelligence solutions. Sunrise has over 19 years of experience in business and information systems consulting, with ERP and Supply Chain Management implementation expertise in the manufacturing, distribution, and retail industries. As a global ERP and BI provider they have locations all over the world with their headquarters in Winston-Salem, North Carolina, and regional offices located in Dallas, Texas; Salt Lake City, Utah; Xi'an, China and Chiasso, Switzerland. Sunrise Technologies exists to implement great ideas.
For more information about the Flash Sale Roundtable Dinner, and how you can participate, please email Amber Kirkman, amber.kirkman(at)sunriseconsult(dot)com, or call at 336-722-6741.