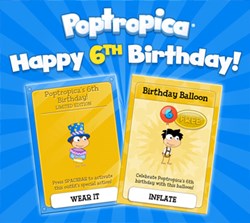 It has been a fantastic six years as our virtual world has expanded and improved and I am excited about the plans we have for the future.
Boston, Mass. (PRWEB) September 18, 2013
Kids love a birthday party, and all kids around the world are invited to celebrate Poptropica's 6th birthday this month. Launched as one simple Island in September 2007, the virtual world for kids has grown to 35 Islands, each with its own story to tell and unique experiences for players.
Poptropica was created by Jeff Kinney, author of the bestselling "Diary of a Wimpy Kid" series. To date, kids around the world have created more than 560 million virtual characters. Just last month, Poptropica's newest Island, Virus Hunter Island, debuted with new and enhanced features, including better navigation, a larger screen, and a full soundtrack with sound effects. For the first time, kids are able to find out how they compare to other players by viewing the Virus Hunter World Champions map. Players can see the top finishers of the Island, enter their username to find out their rank, or just view the entire map to check out all the countries where kids have played Virus Hunter Island.
"With the recent addition of a full soundtrack and the players map, millions of Poptropicans around the globe are now fully immersed in a multimedia gaming experience when they embark on our high quality adventures," said Kinney. "It has been a fantastic six years as our virtual world has expanded and improved and I am excited about the plans we have for the future."
Visitors to Poptropica this month will have several opportunities to celebrate. By visiting the Poptropica Store, all kids can get a free 6th birthday balloon for their Poptropicans. In addition, all kids can play Poptropica's annual birthday balloon pop game to try and win a commemorative jack-in-the-box birthday cake hat for their Poptropican.
"Poptropicans have every reason to celebrate: six years, 35 Islands and more than 560 million characters," said Jess M. Brallier, publisher of Poptropica. "We are proud to continue to provide kids around the world with quality online story adventures in a safe, secure place to play and connect online."
In addition to its explosive popularity with kids, Poptropica continues to garner awards and accolades in the toy and game community. The virtual world for kids was selected as an Official Honoree in the 17th Annual Webby Awards for excellence on the Internet in the games category. Plus, one of Poptropica's popular storylines from one of its earliest Islands, 24 Carrot Island, Dr. Hare's Lair, garnered 10,000 supporters in seven months on LEGO® CUUSOO for consideration as a future Lego set.
Hundreds of millions of kids have visited Poptropica since its launch five years ago and the number grows every day. Poptropica players come from more than 200 different countries and territories and have their web browsers set to more than 100 different languages. The virtual world offers kids a safe place to play and connect online.
All Poptropica Islands are free to play, and each represents a unique theme and challenge. Kids can stay up to date on news about upcoming new Islands and other exciting developments in the world of Poptropica on the official Poptropica blog.
About Poptropica (http://www.poptropica.com)
Poptropica is a virtual world in which kids explore and play in complete safety. Every month, millions of kids from around the world are entertained and informed by Poptropica's engaging quests, stories and games.
Kids create a "Poptropican" character to travel the many Islands of Poptropica and use gaming literacy to enjoy a narrative that is often rooted in factual history. Problem-solving skills are honed as kids discover and solve mysteries unique to each Island.
There are always new areas to explore in this ever-expanding world where kids can collect objects, read digital books and comics, watch movies and compete in head-to-head competition. Parents can always trust that their children are playing – and learning – in a safe online environment.
Poptropica is published by Family Education Network, a part of Pearson, the education, services and technology company.