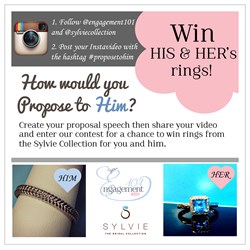 The data points towards major changes in couples relationships. They delay marriage and try living together first . We are also witnessing a rise in women taking the initiative to propose and picking their engagement ring.
New York, NY (PRWEB) September 19, 2013
The Engagement 101 2013 Just-Engaged couple survey includes exciting new data regarding marriage proposals, couple relationships,dating and engagement ring trends.

65% of the couples who got engaged lived together before deciding to tie the knot.
20% dated for more than three years.
57% of the men delayed proposing to their girlfriend because they were not sure if they were ready or if she was not the one.
29% of men delayed popping the question because of financial issues.
5% of women took the initiative and proposed first
71% of men would be open to wearing an engagement ring for guys, called a mangagement ring.
Severine Ferrari, Editor-in-chief of Engagement 101 magazine says these poll results show just how much the wedding industry and couples are transforming in this new age of romance.
To celebrate these findings, Engagement 101 is hosting an innovative new Instagram contest sponsored by The Sylvie Collection: "How Would You Propose To Him?" starting September 18. Women who are ready to get married – but haven't been given a beautiful ring yet – are encouraged to create a 15-second video explaining how they'd propose to their leading man.
By declaring their love, they enter for a chance to win a sparkly blue topaz and diamond ring from the Sylvie Collection.
About Engagement 101: Engagement 101 is a multi-media consumer platform dedicated to help couples plan their engagement. Engagement 101 has everything you need as you plan your wedding engagement. From proposal ideas to the perfect ring, couples preparing for their wedding engagement need to look no further. Aside from your big day, popping the question is one of the most important moments in your relationship.