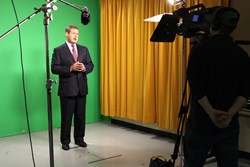 We're fortunate to be able to support so many worthwhile causes and give back to the community. It's part of our core values.- William Mattar
Buffalo, New York (PRWEB) September 19, 2013
As part of his ongoing participation in the Western New York community, William Mattar visited the WUTV/WNYO studios to shoot several public service announcements on Sept. 11, 2013. Supporting a variety of important and worthwhile causes, they covered the topics of breast cancer awareness, drunk driving, Boy Scouts of America, and even supporting pet adoption from local shelters.
These current public service announcements join the already long list of causes and community events that William Mattar Law Offices support each year, most recently having donated 15,000 pencils to area schools to help students in need of additional supplies, and the annual Buckle Your Belt Campaign to teach children about seatbelt safety and encourage them to Buckle Up each and every time they are in a motor vehicle.
To view other events, go to http://www.WilliamMattar.com and visit the Community section.
About William Mattar, P.C.
For over 23 years, William Mattar, P.C. has been representing clients across New York State including the Buffalo, Rochester, Syracuse, Binghamton and Albany regions. With a principal office located at 6720 Main Street in Williamsville, NY, William Mattar Law Offices focuses on auto injury cases for those seriously injured in motor vehicle accidents. William Mattar, P.C. has an extensive legal network available for most legal issues you may need assistance with. Call the William Mattar Immediate Response Team at 444-4444. For more information about the firm, please visit http://www.WilliamMattar.com.