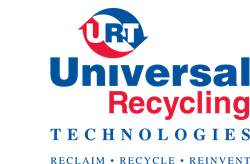 URT offers electronics recycling to residents throughout the United States via self-serve recycling containers, partner collection sites and community drop-off locations.
Janesville, WI (PRWEB) September 19, 2013
On September 16, 2013, Universal Recycling Technologies, LLC (URT) launched a nationwide recycled art competition called "Build for a Better Tomorrow" to better educate the public on electronics waste (e-waste) recycling and promote sustainability.
The contest is open all interested parties nationwide. To qualify, artwork must be created using some recycled content. Contestants may upload a picture of their artwork on the URT contest webpage located within the URT corporate Facebook page.
The uploaded art will be open for public vote until the contest closes at noon on November 14, 2013. Three winners will be announced on America Recycles Day, November 15, 2013. All winners will be determined by public vote. The contest entries are organized by categories: Kindergarten through 6th grade, 7th through 12th grade and adult. One winner will be announced per category. Each category winner will receive $1,000. Kindergarten-6th grade art will only be accepted classroom-style and must be submitted by a teacher on behalf of a classroom. The winning classroom will receive a pizza party and a $1,000 towards its school. The other category winners will submit and be awarded prizes individually. For contest rules, to submit an art piece or to vote, please visit the URT contest page.
URT, a national electronics and universal waste recycler and IT asset disposition company, is committed to educating the public about the importance of electronics recycling. URT offers free electronics recycling to residents throughout the United States via multiple partner and community electronics drop-off locations. Amongst these drop-off locations are self-serve collection containers. URT collection containers offers a no-hassle, stress-free solution to address the growing electronics waste (e-waste) problem our nation faces. The process for drop off is convenient and easily accessible. Consumers simply visit the e-cycling bin and place their used electronics inside. e-Stewards® certified recycler URT then collects and properly recycles the materials, ensuring personal data is destroyed. Recycling is provided at no cost to consumers.
Materials acceptable for drop-off include laptops and other computers, televisions, monitors, wires, cables, power supplies, cell phones, keyboards, mice, printers, copiers, home and office phones, VCRs, DVD and CD players, and other consumer electronics (exclusions: fire alarms, smoke detectors, mercury containing devices, dehumidifiers, exit signs and contaminated medical equipment). To search for a nearby drop-off location, visit the URT website's Find A Collection Site page.
"Electronic waste is growing at an exponential rate. This program provides a convenient, safe alternative for consumers to responsibly dispose of potentially hazardous e-waste at no cost. It supports URT's guiding mission to provide recycling that is environmentally sustainable, easy to access, and affordable. When you recycle with URT, your materials are processed domestically and in accordance with the strictest available industry standards. This level of transparency and attention to detail is critical when selecting a recycler," said URT President Jim Cornwell.
Also available to residents is the option to drop-off electronics at a URT facility or partner location. URT has several processing facilities and consolidation centers across the nation. All items processed with URT, a URT partner collector or via a URT recycling bin are handled and recycled responsibly in accordance with the eStewards® Standard for Responsible Recycling and Reuse of Electronic Equipment® standards. The e-Stewards® Electronic Recycling Certification is the first fully accredited, independently audited certification program designed to ensure that e-waste is responsibly and accountably recycled. URT was the 11th e-Stewards® certified recycler in the nation. All URT facilities are also ISO 9001:2008 and ISO 14001:2004 certified.
To learn more about URT and search for a nearby recycling location, please visit URT's website. To learn more about the art contest, please visit URT's Facebook page. If you would like to learn more about URT's recycling programs, including affordable and convenient programs for businesses seeking IT asset disposition and recycling, please call (877) 278-0799.
About Universal Recycling Technologies
Universal Recycling Technologies, LLC (URT) partners with its manufacturer, retail and Fortune 500 clients to implement solutions-oriented universal waste recycling, e-waste recycling, IT asset recovery and convenient pre-paid pack-and-ship recycling box programs. URT also offers electronics and appliance recycling at no cost to the consumer. ISO 9001:2008 and 14001:2004 certified, URT adheres to the industry's strictest compliance certifications, including the eStewards® Standard for Responsible Recycling and Reuse of Electronic Equipment®. Since 2007, the company has been privately owned by Hendricks Holding Company, Inc.