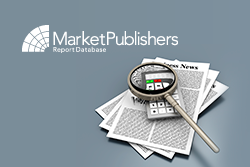 London, UK (PRWEB) September 18, 2013
MarketPublishers.com announces that a new research report on the hydroquinone (CAS 123-31-9) market prepared by BAC Reports is now available in its catalogue.
The newly published report "HYDROQUINONE (CAS 123-31-9) Market Research Report 2013" gives unbiased insights into the global hydroquinone market. The study provides a comprehensive product profile of hydroquinone, including the description of the major properties, data on the composition and potential health hazards, toxicological and ecological information as well as vital details on the storage and transportation requirements. The report examines key applications of hydroquinone, cover production methods and patents.
An extensive analysis of the hydroquinone market along with detailed information on the regional prices for the product is available in the report. The research study reviews key and niche market players, providing their comprehensive profiles with contact details and also presenting a snapshot of the world's main hydroquinone consumers.
Report Details:
Title: HYDROQUINONE (CAS 123-31-9) Market Research Report 2013
Published: September, 2013
Price: US$ 2,650.00
http://marketpublishers.com/report/industry/chemicals_petrochemicals/hydroquinone_123-31-9_market_research_report.html
The regional hydroquinone markets covered in the report include: Europe, Asia, North America and Latin America.
Companies profiled in the report include, among others, Merck Schuchardt OHG, Eastman Chemical B.V., LANXESS Deutschland GmbH, Vickers Laboratories Ltd., LS Chemicals (Shanghai) Co., Atomax Chemicals Co., Capot Chemical Co., 9W Pharmaceutical Technology Co., Dalian Dyechem International Corporation, Yancheng Fengyang Chemical Co., Tokyo Chemical Industry Co., Avantor Performance Materials, EMD Millipore Corporation, Wonda Science Inc. and Sigma-Aldrich Corp.
Reasons to Buy:

The report equips a reader with top-quality information on the performance of hydroquinone market.
Data on the regional prices for the product assist in determining the most promising markets.
Comprehensive product profile enriches a reader's knowledge of hydroquinone, its properties and production methods.
Examination of the main application areas helps to make accurate business decisions and create effective market-penetration or business-expansion strategies.
Profiles of the leading and niche market players assist in getting an idea of who stands where in the hydroquinone market and to find potential customers or/and business partners.
More CAS chemicals reports by the publisher can be found at BAC Reports page.