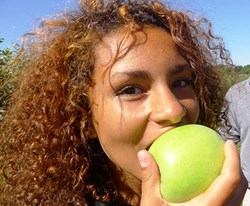 Hershey, PA (PRWEB) September 19, 2013
The new culinary trend "farm to table" is not just a phrase on the Milton Hershey School® campus, it's a reality. MHS Culinary Arts Teacher Chef Bradley Jennings and his class recently traveled around the campus farm to learn first-hand about the different types of produce, how each grows, and how to pick them properly to use in recipes.
"Many of the students have never seen where or how food is grown. Many of them said they had never tasted corn that is so sweet, peaches that are as fresh, and known that there are so many varieties of peppers," Jennings said.
Chef Jenning's culinary class is one of several classes offered in the Culinary Arts/Restaurant Management Services course which is one of 11 career pathways that students can choose in the Career/Technical Education program. The culinary class prepares students with proficiency in culinary techniques and cooking methods and trends. Students can also become certified in the ServeSafe Food Protection program through the National Restaurant Association Education Foundation.
Chef Jennings realizes the importance of getting the students out on the farm learning about the characteristics of fresh fruit and vegetables and discussing recipes to cook.
"Taking the produce from where it's grown and into the kitchen where it's going to be processed, skipping the plastic and cardboard packaging, allows the students to see the intimate connection between natural environments and the food we eat," Jennings said.
One of the best parts for the students is the opportunity to taste the fruits and vegetables as they pick them on the farm.
"This tastes like heaven right here!" sophomore Shamar Foster said after he grabbed a peach off a peach tree.
"I could see us making peach cobbler with these peaches," Jennings said.
Horticulture Instructional Advisor Joe Miller drove the students around the farm on a wagon. Miller explained that all of the produce is grown commercially through seeds produced by SEEDWAY Markets. The company supplies the seeds to MHS to test out the produce in its fields.
The group filled large pails with tomatoes, peppers, and corn. They will likely make some marinara sauce and corn fritters.
"I really like to cook different stuff with the ingredients," Shamar said. "I like to learn new skills so I can use them on practical culinary tests later in life."
Shamar aspires to become a chef one day or own a restaurant. His classmate Alexis Wood said she always thought she wanted to be a pastry chef, but has surprisingly enjoyed working with fresh produce.
"I want to try different things and expand my taste because I don't usually work with a lot of vegetables," Alexis said.
Chef Jennings believes experiences like these will help his students find out if they have what it takes to start a career in the food industry.
"It's important for a future cook to experience the potential of raw ingredients. Not only can they be incredible before they are cooked, but they are the backbone of what the food will later become. Being able to select quality ingredients will make their food better," Jennings said.
And, better food is a good recipe for better future chefs, like Shamar and Alexis.