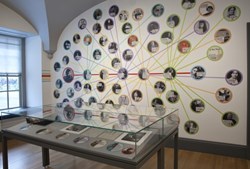 "Smart," "Esoteric" and "A lot of fun." -- The Washington Post
New York, N.Y. (PRWEB) September 19, 2013
Find Out Who Friended Whom in the Art World Since the 1920s
Painter, illustrator, poet, and author Peggy Bacon (1895–1987) had a lot of friends in the art world. By tracing who she knew—and who they knew—the new exhibition Six Degrees of Peggy Bacon illuminates connections among 20th and 21st century artists ranging from Alfred Stieglitz to Carolee Schneemann and Romare Bearden to Mary Chapin Carpenter. Visitors to the exhibition might even discover their own connections to Bacon and her crowd.
Six Degrees of Peggy Bacon is presented by The Art Students League of New York in collaboration with the Archives of American Art, Smithsonian Institution. Free and open to the public, the exhibition opens September 30 and runs through November 1 at the Phyllis Harriman Mason Gallery at The Art Students League of New York, 215 West 57th Street.
Inspired by the "six degrees of separation" theory that everyone in the world can be connected through a chain of relationships involving just six people, the exhibition traces the connections among Bacon and dozens of other prominent artists using photographs, letters, graphics, and archival documents from the Archives of American Art. "Bacon's fascinating and diverse network reveals her influence on the American art world and the role of The Art Students League as a site of artistic exchange," says League Curator Jillian Russo. Several of Bacon's works from The Art Students League's Permanent Collection will also be displayed.
Bacon, who was renowned for her witty caricatures of celebrities and artists, studied at The Art Students League (1915–20) and later was an instructor in painting, drawing and composition (1935–1936 and 1948–1952). The school was at the heart of her artistic circle, which included her teachers John Sloan, Kenneth Hayes Miller, and George Bellows; her husband artist Alexander Brook, whom she met at the League; and artist Reginald Marsh. Alfred Stieglitz, who organized an exhibition of Bacon's work at his Intimate Gallery in 1928, was also a friend. Further degrees of separation reveal links to artists including Marcel Duchamp, Walter Pach,* Louis Bouché,* Philip Evergood,* John Lennon, Jackson Pollock,*Lee Krasner,* Georgia O'Keeffe,* Winslow Homer,*Augustus Saint-Gaudens,* Philip Guston,*Robert Indiana, Louise Nevelson,* and Jacob Lawrence.* (*Asterisks denote former Art Students League students and teachers.)
The "six degrees of separation" theory stretches back to the Italian inventor Guglielmo Marconi, who first used the phrase publicly in 1909. It gained wide currency from a 1967 Harvard study, but John Guare's 1990 play of the same name pushed the expression into everyday use and spawned the game "Six Degrees of Kevin Bacon." Six Degrees of Peggy Bacon probes how the creative, significant, and trivial interactions between student and teacher, artist and dealer, and even lover to lover worked in an age before electronic social networking.
Six Degrees of Peggy Bacon was first shown in the summer of 2012 at the Lawrence A. Fleischman Gallery at the Donald W. Reynolds Center for American Art and Portraiture in Washington, D.C. The Washington Post called the exhibition "smart," "esoteric" and "a lot of fun."
Six Degrees of Peggy Bacon is free and open to the public. Hours are Monday–Friday, 9:00 a.m.–8:30 p.m. and Saturday and Sunday, 9:00 a.m.–4:00 p.m.
Click here to download an exhibition brochure. For more information, please visit http://www.theartstudentsleague.org/Gallery/SixDegreesofPeggyBacon.aspx, or call 212-247-4510. Funding comes in part from the New York City Department of Cultural Affairs.
About The Art Students League of New York
The Art Students League of New York is one of America's premier art schools. It was founded in 1875 by artists, for artists, to provide affordable studio-based art education of the highest quality to those interested in making art. Great artists have trained, taught, and exhibited at the League throughout its rich history. Classes, lectures, workshops, exhibitions, residencies and other professional development programs continue the League's missions of cultivating a spirit of fraternity among art students and training students who intend to make art a profession.