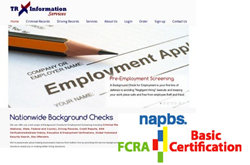 TR Information has certified that they never report database criminal records directly to employers without first verifying the accuracy of the information.
(PRWEB) September 20, 2013
In today's economy, employers are concerned about the bottom line and will cut corners in requesting a criminal background check by choosing to only run a database search. A database search is not the most viable way to determine if a record is accurate or applicable to your applicant and/or reportable by the guidelines of the FCRA and state statutes.
There is a surge and trend of potential employers being sued for using database searches only to determine job worthiness. TR Information Services has changed its policy to help and protect its clients. Database searches are only used as a tool to indicate possible records -- not as a determining factor on a background check. Criminal records databases compiled by non-government entities should only be used as indicators of possible records.
"Every day we hear of another company being sued for not complying with employment screening guidelines which occur on a state by state basis. TR Information Services is dedicated to helping employers and HR managers make sound determinations on their applicants," says Todd Mayers, Marketing Manager
In the wake of the ever-changing landscape of the employment background check, TR Information Services has implemented regulations to insure criminal record accuracy and to protect the applicant and the employer.
Simply put TR Information Services is dedicated to getting it right. They have even added a compliance page to their web site with 4 simple steps to make sure that you are in compliance with the FCRA (LINK) which is available to everyone not just their clients.
About
Since 1994, TR Information Services has been offering full service pre-employment screening including, but not limited to, Criminal Records, SSN Verifications, Employment/Education Verification Credit Reports and Driving Records. TR Information Services is also a proud member of the The National Association of Professional Background Screeners (NAPBS) and ConcernedCRAs.