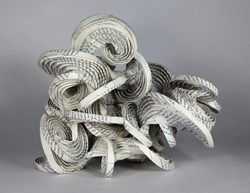 Easton, PA (PRWEB) September 19, 2013
The ancient art of paper folding has gone high-tech and a new exhibit at Lafayette College features an amazing collection of sculptures that blend math and science with the practice of origami from some of the planet's most extreme paper-folding artists.
Called Crease, Fold and Bend the exhibition runs until Oct. 27 in the Williams Center Gallery and includes a sea-worthy kayak, folded insects and animals, a shelter which can be easily transported and deployed where temporary housing is required, consumer products, and a "curved creased sculpture" by Erik and Martin Demaine containing text from Graham Green's story "The Destructors," all made from paper.
Robert J. Lang, the world's foremost paper-folding artist and physicist with a Ph.D. from Caltech, has loaned folded animals and anatomically correct insects, crease pattern, and video of an airbag deployment system he designed for exhibit. On Monday, Sept. 23 at 7:30 p.m. Lang will present "From Flapping Birds to Space Telescopes: The Mathematics of Origami" in the Williams Center for the Arts theater.
During the course of his work at NASA/Jet Propulsion Laboratory, Spectra Diode Laboratories and JDS Uniphase, Lang has written more than 80 articles and developed 45 patents in lasers and optoelectronics, in addition to writing or editing 12 books and a CD on origami. During his talk, Lang will discuss how the algorithms and theorems of origami design have shed light on long-standing mathematical problems.
About 10 years ago, scientists, mathematicians, engineers and artists began pushing the boundaries of origami beyond tin foil swans and paper airplanes and creating folded models of epic imagination; the Statue of Liberty, cicadas with wings, a cuckoo clock, Jimmy Carter. But not all origami is fanciful. The practice is also being used in the development of airbags for cars, collapsible medical stents and the design of space telescopes.
Father and son Erik and Martin Demaine, creators of the curved crease sculpture, present Folding Paper: Visual Art Meets Mathematics at 7:30 p.m. on Monday, Oct. 7 in the Williams Center for the Arts theater. A reception follows. The two have been exploring curved creases, which remain poorly understood mathematically but have potential applications in robotics, deployable structures, manufacturing, and self-assembly.
Erik Demaine is a MacArthur Fellow and Alfred P. Sloan Research Fellow, is a member of the Theory of Computation Group and the Algorithms Group at MIT's CSAIL—Computer Science and Artificial Intelligence Laboratory. Several of his curved origami sculptures are housed in the permanent collection of the Museum of Modern Art in New York.
Martin Demaine is the Angelika and Barton Weller Artist in Residence in the MIT Department of Electrical Engineering and Computer Science, a technical instructor in the Department of Materials Science and Engineering Glass Lab, and a member of the Theory of Computation Group at CSAIL.
The exhibition includes an installation of 36 folded white crabs and videos created by Carlos Runcie-Tanaka, a Peruvian-Japanese installation and video artist. Titled Cloud, the artwork symbolizes migration, displacement, cultural identity and adaption, and represents the journeys of his two grandfathers who immigrated to Peru in the 1920s.
On Tuesday, Oct. 8, Runcie-Tanaka will give talks at 12:15 p.m. and again at 7 p.m. in room 108 of the Williams Center. Runcie-Tanaka is one of Peru's most important artists. He has represented Peru at international biennials including the 4th and 5th Havana Biennial, the 49th Venice Biennale, the 8th Cuenca Biennial and the 26th São Paulo Biennial.
Another installation by Takayuki Hori of Japan asks viewers to consider contemporary issues: the environmental threat of pollution awaiting species native to Japan's coast waterways. Skeletons of sea birds and animals are printed on transparent sheets, and when folded create an "X-ray" version of the animal. But a close look at the X-rays reveal trash—toothbrushes, plastic bags, cigarette butts—which have been ingested.
The exhibit is funded by a grant the college received from the Andrew W. Mellon Foundation to infuse art into the curriculum.
For exhibit information, contact Michiko Okaya, director of Lafayette art galleries, (610) 330-5361 or artgallery (at) lafayette (dot) edu.
---
Higher Resolution Photos Available
Kathleen Parrish
Associate Director of Media Relations
Lafayette College
Communications Division
Easton, PA 18042
parrishk (at) lafayette (dot) edu
http://www.lafayette.edu