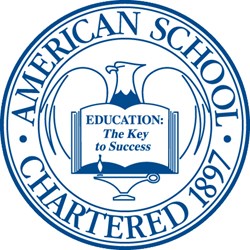 Lansing, IL (PRWEB) September 20, 2013
The American School is pleased to announce the creation of a new YouTube channel whose first video is a five-minute infomercial produced by Breakthroughs, an award-winning series airing on Public Television stations across the country.
The five-minute infomercial takes viewers inside the American School's headquarters in Lansing, Illinois, through which students from across the country and around the world take accredited paper-based or online courses which help them earn their high school diplomas. Featured in the video are American School President Gary R. Masterton, Curriculum Director Marie Limback and recent graduate Nicole Peters.
The infomercial and creation of a YouTube channel expands upon the American School's use of technology to deliver relevant content to its stakeholders. In recent years, the School has created an Online Student Center where students and parents can access academic records, help sheets and other information. The School also created an Online Counselor Office so that school officials can access their students' records at any time. In addition to having popular Facebook and Twitter pages, the School's Web site was redesigned in 2012 and its blog is updated on a daily basis.
The most important advancement in technology, however, has been the development of online courses and online exams in paper-based courses. A correspondence school for much of its 116-year existence, the American School is now proud to offer several courses in an entirely online format and has online exams available in many paper-based courses, with more online learning initiatives planned for 2014.
For more information on the American School, visit http://www.americanschool.org or call 866-260-7221.