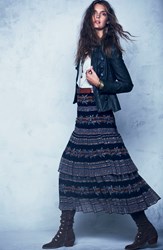 Savannah, GA (PRWEB) September 23, 2013
Specialty clothing brand, Free People, will open its 85th boutique in Savannah, GA on October 4th, 2013. Set to live on West Broughton Street, the city's famous shopping destination, the 2,200 square foot space will celebrate its historical surroundings. Inside old world walls and a historic storefront, the brand will carry unique designs sure to become favorites for the local population of artistic and creative citizens.
The boutique was designed in the brand's Black Smith's Cottage concept, highlighting Free People's rugged side and maintaining the site's historical integrity by leaving the original storefront. The space will feel like the Free People girl's personal workshop with few changes made to the old beautiful finishes. The original brick walls will be painted white and the beam ceiling left exposed. New additions include reclaimed bead board and blackened steel accents throughout, as well as glitter plaster walls and twinkle lights that embrace a more feminine feel. The store will also feature one of Free People's favorite installations – a built-in work bench cash wrap complemented with vibrant spools of yarn, and a mural painted on the adjacent brick wall.
Just in time for the fall season, the store will open with a great assortment of jackets, knits, and denim. The main focus will be around printed tees, thermal tops, and fresh, innovative jackets that can be paired back to statement pants and denim. This trend is very sports-inspired, but the assortment will also cater to Free People's feminine girl as well. To complement her romantic side, the collection will also include whimsical dresses, tops, and skirts, all with an emphasis on pattern and embellishment. To complete the fall looks, the store will carry a variety of statement necklaces and bags.
Each of the brand's boutiques has a full team of styling experts to help shoppers get a complete Free People look, but inspiration can also be found with Free People's online Style Community, FP Me. This offers all Free People girls a way to share their personal style, create looks, curate collections, and connect with other FP fans. Shoppers in Savannah can now shop the website or new boutique and share their wears with a global fashion Community through FP Me.
The store is located at 217 West Broughton St., Savannah, GA 31401. Store hours will be Mon-Sat 10am-9pm and Sun 11am-6pm. The store's telephone number will be (661)253-5067. Fans should also "like" the store on Facebook to stay up-to-date on all of the latest arrivals, events, and other happenings. (https://www.facebook.com/pages/Free-People-Savannah/209218975903814)
About Free People
Free People is a specialty clothing brand featuring the latest trends and vintage collections for women who live free through fashion, art, music, and travel. The bohemian look consists of quality apparel, shoes, and accessories that invoke attributes of femininity, spirit, and creativity with its design. Free People is distributed globally via direct channels including the Free People Global site and Free People UK site, as well as specialty boutiques, top department stores, and the brand's free standing retail locations in the U.S. and Canada.