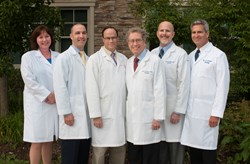 The growth of our practice continues to be guided by our mission and philosophy to provide excellent and timely urologic care.
East Norriton, PA (PRWEB) September 19, 2013
Urologic Consultants of Southeastern Pennsylvania announces that Urologic Associates of Montgomery County has joined them, adding five physicians and two offices to the full-service urology practice.
"Residents of Montgomery County will now be even better served through this partnership," says Dr. Laurence Belkoff, of Urologic Consultants. "The growth of our practice continues to be guided by our mission and philosophy to provide excellent and timely urologic care to men and women in Philadelphia and Montgomery counties. Our patients have access to an even greater number of highly trained specialists who work together to provide each patient with individualized care with the best possible outcome."
Urologic Associates physicians will continue to see patients in their East Norriton and Lansdale offices. Now together, all the physicians of Urologic Consultants offer expertise in the treatment for urologic cancer (bladder, kidney, prostate, testis, urethra and ureter, adrenal), incontinence, stone diseases, sexual dysfunction, urinary infections, obstructions and pelvic disorders. The combined group includes physicians experienced with using robotic and minimally invasive surgery for treatment of prostate cancer, incontinence and other conditions. Three have been named Top Doctors by Philadelphia magazine and others have been recognized for excellence in teaching and research.
"We are pleased to be able to offer our current and new patients a continuation of highly personal attention in an intimate setting," says Dr. Brian Rosenthal. "By combining practices we are able to offer all patients the latest technology, treatments and quality assurance as well as a rich and diverse academic teaching environment. The combined research departments give patients access to new treatment options. Men and women throughout the Philadelphia region can get advanced care in their choice of locations." Dr. Rosenthal is a current Philadelphia magazine top doctor.
Urologic Consultants' 20 physicians now practice at freestanding offices in Bala Cynwyd, Lansdale, East Norriton and Philadelphia plus sites on hospital campuses including Hahnemann, Mercy Suburban, Albert Einstein Medical Center and Jeanes. Physicians have academic appointments at institutions including Drexel University College of Medicine and PCOM. The practice pledges to see new patients within 24 hours on weekdays, and takes patients with every type of insurance.
To learn more about Urologic Consultants or schedule an appointment online, visit http://www.MyUroDoc.com. The East Norriton office near Einstein Medical Center Montgomery can be reached at 610.272.1881.