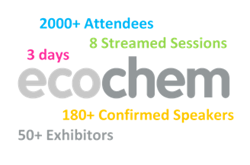 London, UK (PRWEB UK) 25 September 2013
We are looking for leaders and experts from many industries to speak at the Ecochem Conference such as chemists, scientists, engineers, financiers, investors, end-users, academics and governmental organisations.
Also available are presentation slots within the 'Under-35' and 'IGNITE-Pitch the Investors' sessions, which allow students, young innovators and future industry leaders to present to the event delegates.
A selection of available presentations include:

Sustainable chemistry in consumer packaged goods;
Trends, challenges and successes related to improving the sustainable profile of formulated consumer products;
Global legislative trends and the impact of environment legislation;
Communicating sustainability effectively both throughout the manufacturing supply chain and to the general public;
Comparative analyses of different metrics that highlight the sustainability differences in synthesis, chemical process or product;
Industry standards for Lifecycle Analysis (LCA) and Environmental Product Declaration (EPD);
Alternatives for common formulation ingredients such as solvents, chelating agents, boron alternatives, UV agents, fragrances and more.
For information on how to become a speaker at the Ecochem Conference, please contact Alicia at alicia(dot)jumman(at)ecochemex(dot)com.
The Under-35 and IGNITE sessions are open to any presentations based on green and sustainable chemistry, products, technologies, processes or ideas. Deadline is 10th October.
If you know a student or professional under the age of 35 that may be suitable and interested in either of these sessions please contact Gemma at gemma(dot)grainger(at)ecochemex(dot)com.
Please download the event brochure to discover more about the Ecochem event.