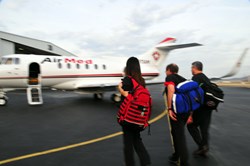 Birmingham, Alabama (PRWEB) September 26, 2013
AirMed International, the premier global air ambulance and medical solutions company, has announced a new partnership with MedFlight, the long-standing non-profit air and ground medical transportation service based in Ohio. This new, unique air and ground medical transportation membership program is called MedFlight Advantage.™
The new membership program is designed to cover Ohio individuals and families on an annual basis and has two plan levels. MedFlight Advantage™ includes full service ground and helicopter transport for an entire family if the unthinkable happens. The Advantage Global™ plan adds AirMed's long-distance services to the program and provides complete air medical transport coverage on a worldwide basis. Advantage Global, just like AirMed, brings you home to the hospital of your choice from any point on the globe with no hidden fees, co-pays or deductibles.
"AirMed already covers more than 1 million lives as part of our current membership program, and we are extremely pleased to now serve the residents of Ohio through MedFlight Advantage Global," said AirMed CEO Jeffrey Tolbert.
Accidents can happen anywhere, not just near home. Business and leisure travel takes people across the country on a regular basis—what if they are hospitalized 500 miles away from home? And for those who travel internationally, it can cost $200,000 or more to return you home to your loved ones. MedFlight Advantage Global membership gives members complete access to the industry's most experienced teams in long-distance air medical transportation and patient care, all for little more than a dollar a day.
MedFlight's Advantage Membership can be found at medflight.com/advantage.
About the Air Ambulance Company AirMed International
AirMed is the premier global air ambulance and medical solutions company in North America. AirMed provides unparalleled medical care and transportation on a worldwide basis to the nation's top hospitals, insurance providers and assistance companies, and to more than 1 million members worldwide. An AirMed membership is an important supplement to typical travel insurance and includes air medical transport to the hospital of your choice if you are ill or injured more than 150 miles from home, as well as a host of other benefits. For more information about AirMed, visit airmed.com.
About MedFlight and MedCare
MedFlight is a non-profit organization owned by our nationally-recognized member hospitals: Wexner Medical Center at the Ohio State University, OhioHealth Hospitals, and Akron General Medical Center. MedFlight also has a pediatric and neonatal transport partnership with Nationwide Children's Hospital and has preferred provider agreements with Ohio's most prominent hospitals. MedCare ground ambulance is 60% owned by MedFlight.