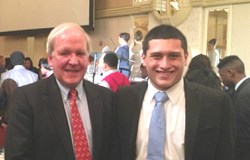 Washington, DC (PRWEB) September 25, 2013
Last week, Chairman of the Junior State of America's (JSA) Board of Trustees Mike McCurry announced to delegates at Jack and Jill of America's On the Hill Legislative Summit that their organization would be entering into a partnership with JSA. In his speech, he stressed the commonalities between the two organizations, both more than 70 years old, and with a commitment to nurturing the leadership skills and civic education of young adults.
Jack and Jill of America is an organization for African-American young people dedicated to their social, cultural, and educational development. It was founded in 1938 and has expanded since.
As part of JSA's partnership with Jack and Jill of America, any of the 220 Jack and Jill chapters around the country can become JSA chapters. They can collect taxes, send delegates to conventions, participate in activism initiatives, and all of the other facets of a successful and fun JSA experience.
Like JSA students, Jack and Jill students have a long track-record of civic activism in their communities, as well as advocacy in Washington. Their On the Hill Legislative Summit in Washington this past week focused on addressing the nationwide issue of Gun violence through increased background checks and monitoring of gun sales.
Junior State of America (JSA): Providing civics education and leadership programs for nearly 80 years, JSA is the largest student-run organization in the United States. School-year programs take place in more than 450 secondary schools in 35 states, with more than 10,000 members. The JSA program is supported by the Junior Statesmen Foundation Inc., a 501(c)(3) tax-exempt educational corporation, which provides guidance to JSA's student leaders. It has offices in San Mateo, Calif., and Washington, D.C. More information is available at http://www.jsa.org or jsa(at)jsa(dot)org.