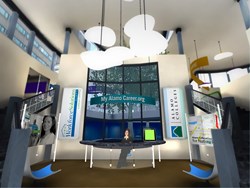 It's like an XBOX or Wii game for connecting with education or training programs or for finding a job.
San Antonio, TX (PRWEB) September 19, 2013
MyAlamoCareer.org, a new virtual career center website based on a 3-D gaming platform, has been launched by Workforce Solutions Alamo (WSA) and Alamo Colleges, to provide continuous access to comprehensive workforce and education information and services in a single location. The virtual career center is also available through a downloadable app, My Alamo Career, for iPhones and iPads.
"This virtual career center is the first of its kind in Texas, and the first we know of anywhere in the U.S.," said Workforce Solutions Alamo Executive Director Patrick W. Newman. "The 3D virtual environment offers an experience that compares to visiting a traditional WSA career center or an Alamo Colleges Advising Office in person. It provides continuous access for customers who can't visit a career center during business hours, which is especially important for residents in rural areas. Now they can access services at any time of day, from the comfort of their own homes, their local libraries and community centers, or on the go through their iPhones."
Visitors to MyAlamoCareer.org can explore individual "rooms" within the virtual career center that offer online tools, videos, links and interactive components allowing them to connect to services and information available from WSA and Alamo Colleges. The site includes an education and training room, a financial assistance room, a job search and placement lab, a career workshop room, a career assessment room, a community resources room, a Veterans' services room, a career exploration room, a WSA advising office and an Alamo Colleges advising office.
"The 3D gaming platform allows us to communicate with the next generation of workers and students in a way that is accessible and resonates with them," Newman said. "It's like an XBOX or Wii game for connecting with education or training programs or for finding a job."
The site includes a live chat function, available from 8:00 a.m. to 5:00 p.m., staffed by representative from WSA and Alamo Colleges who can answer questions and provide support. Hours will be added as traffic increases. All after-hour inquiries will be answered via email the following business day. In addition to the 3D virtual site, a standard version is also available for visitors more comfortable with a traditional website.
All Alamo Colleges students will access the center before they meet with an advisor and register for classes, to help guide them through a process that ensures they are well-informed about career choices, job prospects and how to select a major that will work for their chosen career field. They will also be able to access information on finding financial aid to help pay for college.
"MyAlamoCareer.org fits perfectly into the Alamo Colleges' focus on completion as a measure of student success," said Alamo Colleges Chancellor Dr. Bruce Leslie. "Success for our students is more than just completing their degree or certification. It also includes being well-prepared for a good-paying job, in a field with plenty of openings and potential for growth.
"At the Alamo Colleges, we are constantly seeking new ways to maximize technology for student success," Leslie added. "We have been successful in leading the way with online degree programs, hybrid courses and online tools for students such as AlamoENROLL. By making use of 3D gaming technology, the career center creates a fun, interactive way for our students to access critical information from their mobile phone or tablet, or a desktop computer."
The virtual career center website and mobile app were developed for WSA and Alamo Colleges by local firms Blond Creative, an advertising and multimedia design group, and Geomedia, a full-service production, post and interactive company that specializes in augmented reality and virtual applications.
About Workforce Solutions Alamo
The mission of Workforce Solutions Alamo is to build a premier workforce in America by providing employers and residents with the opportunities, resources and services to develop and gain a competitive edge in the global economy. Workforce Solutions Alamo reaches over 40,000 businesses and more than 2 million residents in the City of San Antonio and the counties of Atascosa, Bandera, Bexar, Comal, Frio, Guadalupe, Gillespie, Karnes, Kerr, Kendall, Medina and Wilson counties. For more information on available workforce programs and services, visit our website at http://www.workforcesolutionsalamo.org.
About Alamo Colleges
At the Alamo Colleges, high quality education and low costs provide exceptional value to students and alumni who are major contributors to the economy and culture of our community. For more information, go to alamo.edu.
About Blonde Creative
Blonde Creative is an advertising and multimedia design group with the expertise to influence and direct consumer behavior. Our integrated services give us the ability to deliver the right message to the right audience using an extensive range of creative tools. We work hard for our clients and deliver on our promises. With more than 40 years of combined experience, Blonde Creative provides services for a diverse client base throughout Texas and around the world since 2001.
About GeoMedia
Geomedia is a talent driven, full-service production, post and interactive company based in San Antonio, Texas. We are directors, producers, designers, animators, artists, developers, and programmers. Now entering its 19th year, Geomedia develops and creates award winning design, animation, visual effects, and interactive experiences. A pioneer in augmented reality and virtual worlds, Geomedia brings together art & creative with science & technology to create compelling properties for clients large and small. A unique collective of talent and tools gives clients the confidence to trust Geomedia to realize their creative vision again and again.