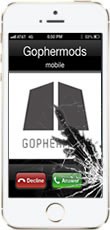 Minneapolis, MN (PRWEB) September 18, 2013
Ever get out the car and forget your iPhone is in your lap to only see it fall straight to the asphalt and watch as your screen cracks? This is a situation most smartphone users deal with far too often, which is why the team at Gophermods is excited to offer the new iPhone 5C repair to their portfolio of Minneapolis iPhone repair services.
The iPhone screen repair will start at $199 for the iPhone 5C and will consist of a removal and replacement of the Gorilla glass outer layer, display and front housing with bezel. The service includes all parts, labor and round trip UPS ground shipping, as well as a Gophermods standard one-year warranty.
The new iPhone screen repair launches just as Gophermods opens their third retail location in Plymouth, MN. Plymouth branch manager Miguel Montano stated, "We're excited to offer the iPhone repair in Plymouth," and explains, "Compared to Apple's replacement program, the Gophermods Plymouth team can get you in and out of the door, with no appointments necessary or long lines to wait in."
As of September, Gophermods will be the only company offering the iPhone 5C repair on a nationwide scale. It will be featured in the Minneapolis, Plymouth and Cottage Grove store locations and offered through nationwide mail programs.
Fear your iPhone might be too damaged? Bring it in to the Gophermods shop and the team can look it for free. In these situations, Gophermods customers need not worry, diagnostics are free and irreparable devices feature free labor. Furthermore, Gophermods has a water damage solution for the iPhone, starting at $49.99.
All this repair talk is great, but what if insurance was purchased? Most insurance deductibles are more than $159.99 to $199.99, it is best to use a one-time insurance policy on a complete phone replacement when phones are lost or stolen.
Have any questions about iPhone repair in Minneapolis? Feel free to contact Gophermods customer service at 612-354-2937 with any questions.
About Gophermods
Gophermods is a Minneapolis-based company that specializes in consumer electronics repair. Each year, Gophermods repairs thousands of consumer devices with OEM parts and professional know-how. Gophermods is the one stop shop for full-service game console, iPad, iPhone, iPod and Smartphone repairs.
Gophermods is accredited though the Minneapolis-St.Paul Business Bureau and is a Proud Member of the Minneapolis, MN Chamber of Commerce.
Gophermods
1170 15th Ave SE
Minneapolis, MN 55414
612-354-2937