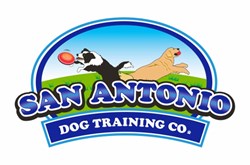 San Antonio, TX (PRWEB) September 24, 2013
San Antonio Dog Training Co. is excited to announce the grand opening of the premiere canine center serving San Antonio and the surrounding areas. San Antonio Dog Training Co's mission is to provide San Antonio dog owners professional dog training with results that last a lifetime and allow owners to build a more fulfilling relationship with their dog. San Antonio Dog Training Co also offers a peaceful boarding facility that focuses on individualized attention with ample opportunities for boarding dogs to play and socialize with other dogs and the caring staff.
The owners of San Antonio Dog Training Co. know what it's like to miss your dog and know how important it is to feel comfortable leaving a dog in someone else's care. All dogs should have a safe, clean and peaceful environment while their owners are away where he/she will receive loving care. San Antonio Dog Training Co is a small boarding facility and this allows for more individualized attention for each dog than bigger boarding facilities. There are also a wide variety of services, including free group play times and several walks throughout the day to make certain every dog feels comfortable, secure and happy. Each dog will have their own spacious accommodations with tempered glass kennels that minimize noise and anti-microbial rubber flooring for a more hygienic environment. Anyone interested in learning more or getting an up-close look at the boarding facility can stop by for a free tour.
At San Antonio Dog Training Co., the trainer believes strongly that the most effective method of dog training is to use a balanced approach. Learning occurs rapidly when we discover what is rewarded and what is undesirable, the same holds true for dogs. San Antonio Dog Training Co's professional trainer teaches his clients how to communicate life lessons to their dog in a fair and effective manner. Learning rules, boundaries and manners will actual open the dog's world up to new places and experiences because he/she will understand the difference between good and bad behaviors and will no longer be a burden to take out in public. This will allow the dog to become a bigger part of the family and to truly become Man's Best Friend. Stop By San Antonio Dog Training Co. for a tour or call 210-520-0780 to schedule an appointment for a free training evaluation to begin building a more fulfilling relationship with your dog.