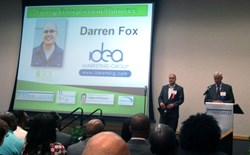 This award is proof that we are building something great.
Naperville, Illinois (PRWEB) September 18, 2013
Darren Fox, President and Founder of Idea Marketing Group accepted the award for Young Entrepreneur presented to him at the 14th annual Entrepreneurial Excellence Awards sponsored by the Daily Herald Business Ledger.
The annual event was held at Northern Illinois University on the Naperville campus and serves to recognize entrepreneurs in suburban Chicago. Fox and twenty other business owners were presented their awards before a crowd of over 160 cheering individuals. The Entrepreneurial Excellence Awards recognized candidates in multiple categories including early stage, growth, innovation, outstanding service to entrepreneurs, young entrepreneur, regional spirit, and lifetime achievement.
Upon receiving his award Fox, the President of Chicago web design firm Idea Marketing Group notes "the road has been a crazy one but one that I will never regret. I could not have done it without the support of family, friends, and especially the amazingly talented team at Idea. This award is proof that we are building something great and I look forward to the future and its opportunities."
Just over four years ago, Fox brought life to a dream when he established Idea Marketing Group. Founded in 2009, Fox acquired his first client, Chicago restaurant empire, Phil Stefani Signature Restaurant Group. Idea is a full service web design and marketing firm with a large client base in Chicago. Although Idea works with clients throughout a variety of industries, they specialize in three main areas; hospitality, non-profit and manufacturing. Idea continues to grow and has recently relocated to Plainfield, Illinois where they can better serve their expanding customer base.
Idea Marketing Group focuses on growing businesses through the best combinations of marketing practices. The creative team at Idea is comprised of professionals who possess unique backgrounds allowing them to specialize in different aspects of the business. The team at Idea Marketing Group is exceptionally skilled at determining the best route to achieving client goals and is happy to play a role in the success of so many businesses. Darren Fox has done a tremendous job in growing his company and shows no signs of slowing down. Receiving the Young Entrepreneur Award is one of many great things to come for Darren Fox and the team at Idea.
To learn more about Darren Fox and Idea Marketing Group visit http://www.ideamktg.com.