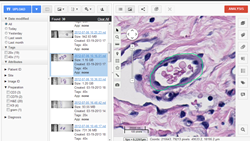 Our mission is to make Digital Pathology practical and profitable for a lab of any size.
Houston, TX (PRWEB) September 24, 2013
Smart Imaging Technologies has introduced Interactive Web Reports for its Simagis Live Digital Pathology servers. Pathologists can now easily complete and sign-off digital cases, create professional media-rich reports from digital slides in just a few clicks and share them instantly with clients, colleagues or patients - all from a single web interface. See product video http://www.youtube.com/watch?v=tD4hO0dh1cQ&feature=youtu.be
Pathologists don't see patients in person, their patients are represented by a set of microscopy slides, and if these slides are digital - pathologists can serve patients anywhere in the world. Digital Pathology makes pathology business global but it also changes traditional workflow of a pathology lab. Unlike physical samples, incoming digital cases are not accessioned into traditional LIS system; instead they come to a digital workspace via the Internet from variety of sources and locations. It means that pathologists are losing access to reporting function in LIS. They have to create reports manually, which makes their work unproductive and reports inferior.
Interactive Web Reports solve this problem. Now pathologists can complete case information and create professional reports right from their digital workspace in just two clicks. Interactive Web Reports include live links to digital slides and provide a number of secure sharing options. Customizable templates and flexible data fields can match specific work process and case data can be synchronized with LIS via API for seamless integration between digital and physical diagnostic processes. Interactive Web Reports can be viewed from mobile devices and easily sent to referring physician, oncologist or shared with the patient. See live report sample: http://goo.gl/3lkNxi
"Our mission is to make Digital Pathology practical and profitable for a lab of any size. Interactive Web Reports help our users become truly productive in the global marketplace of digital pathology," said Vitali Khvatkov, Founder of Smart Imaging Technologies. "This reporting function was eagerly anticipated by our clients, many of whom use advantages of Digital Pathology to expand professional services beyond geographic boundaries," he added.
About Smart Imaging Technologies
Smart Imaging Technologies provides digital slide management software, whole slide image analysis applications and cloud hosting services that make Digital Pathology affordable for labs of any size. With these products, users can easily manage, view, annotate, share and analyze digital slides from any web browser. Smart Imaging Technologies' products can be custom branded and deployed on-premises or in the cloud to deliver unified solutions across multiple locations. For details about technology and solutions manufacturers and integrators, contact support(at)simagis(dot)us. End users can learn more about technology and sign-up for free web service at http://web-pathology.net.