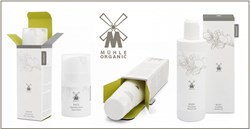 Toronto, Canada (PRWEB) September 19, 2013
Demand for ethical and sustainable products have been increasing as understanding of the relevant issues continues to spread. Some people are interested in products made using natural materials because of concerns over harmful chemicals, while others are interested in shaving products made using no animal products because of how animals are treated in the manufacturing process. In response to this trend, Fendrihan is adding appropriate products from Muhle, Edwin Jagger, and H.I.S. to its existing selection of alternatives to mainstream accessories and cosmetics.
Muhle is a brand belonging to the German manufacturer, Hans-Jurgen Muller GmbH & Co., which produces premium products for personal care. In particular, the Muhle brand specializes in wet shaving products, made using skilled craftsmanship married to outstanding technical expertise.
Launched in 2012, Muhle Organic is a collection of cosmetics for me held to the same exacting standards but reformulated for appeal to a conscientious clientele. Each product in the Muhle shaving collection is made using natural materials with beneficial properties. Foremost among these materials is argan oil purchased at fair prices from Moroccan women's collectives that extract it from kernels using traditional hand-pressing techniques. However, other natural materials include but are not limited to chamomile for combating inflammation, shea butter for protecting the skin, and even coconut oil for moisturizing.
Fendrihan is adding all seven products in the Muhle Organic collection, consisting of after-shave, body lotion, face cream, face wash, shampoo, shaving cream, and shower gel. These products join their counterparts from brands such as Klar, Edwin Jagger, and Hydrea London as part of Fendrihan's selection for clients interested in organic shaving products.
At the same time, the Canadian retailer is also expanding its selection of synthetic shaving brushes with products from both Edwin Jagger and H.I.S. Synthetic means that the brush bristles come from artificial rather than animal sources, which is important because most natural bristles come from slaughtered animals. Although synthetic shaving brushes used to possess a poor reputation, that perception has been fading as science continues to produce better and better materials.
Edwin Jagger is a respected name in wet shaving. Since 1988, its combination of fashionable design with modern expertise and time-tested experience has enabled it to stake out a respectable portion of the international market. Its creation of a line of synthetic shaving brushes is clear recognition of how far synthetic bristles have come since their invention.
For comparison, H.I.S. is a brand belonging to Beauty Strokes that possesses as much or more manufacturing experience as Edwin Jagger. In fact, Beauty Strokes is part of the FM Brush Company, which has been in business for eight decades. H.I.S. synthetic shaving brushes are of outstanding excellence, while also being diverse enough to accommodate all needs and tastes.
These additions reflect Fendrihan's ongoing commitment to bringing the best personal care products for men to a North American clientele. So long as organic and vegan products continue to be made for a conscientious clientele, said individuals can expect Fendrihan to continue introducing them as part of its determination to be a convenient one-stop destination for men in need of products for wet shaving and other grooming rituals.