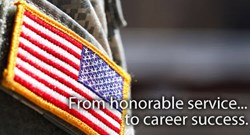 Betz's military-centered presentation will provide an overview on how the current state of veteran employment.
Birmingham, AL (PRWEB) September 19, 2013
Virginia College and parent company, Education Corporation of America, (ECA) are pleased to announce that Mike Betz, General Manager of Military Student Initiatives at ECA , has been invited to serve as a panelist at The Congressional Black Caucus Foundation's 43rd Annual Legislative Conference. Betz will serve on a panel entitled Sequester Cut's and Military Drawdown's Impact on Veterans and Families: Federal Agencies, Budgets, Policies, Programs and Communities. This year's conference is scheduled for Sept. 18-21, 2013 at the Walter E. Washington Convention Center in Washington, D.C.
The Congressional Black Caucus Foundation's Annual Legislative Conference is the premier conference on legislative and policy issues impacting the African-American community and provides the platform for collaboration and policy development to occur among international, national, state and local leaders and their constituents.
Betz's military-centered presentation will provide an overview on how the current state of veteran employment, which he addresses daily as ECA general manager of military student initiatives, affects returning Iraq and Afghanistan soldiers and their families.
Virginia College has been honored as one of the elite Military Friendly Schools in the country as it has been named to the Military Friendly Schools ® list for four consecutive years. This list recognizes the top 15 percent of colleges, universities and trade schools that do the most to embrace America's military service members, veterans and spouses as students and ensure their success on campus. Military Times has also ranked Virginia College third in its annual 2014 Best for Vets: Career & Technical Colleges list.
Military-friendly benefits offered at Virginia College include military scholarships such as the Patriots Service Scholarship, Post 9/11 Scholarship Program and the Armed Forces Recognition Scholarship. Military service members may also transfer up to 75 percent of required credits from other accredited schools, military training and programs such as the College Level Examination Program (CLEP) and Defense Activity for Non-Traditional Education Support (DANTES). The school has also enacted a military-friendly deployment policy with many programs available completely online.
Through its Military Student Center, the school offers a go-to resource for military personnel looking to pursue an education at Virginia College and provides assistance in planning their educational experience as well as explaining benefits offered by Virginia College.
Based in Birmingham, Ala., Virginia College has 25 campuses located throughout the Southeast and also offers classes online to more than 6,000 students at http://www.vconline.edu.
More information about Virginia College's military services can be found at http://www.vcmilitary.com. For more information regarding Virginia College or ECA, please visit vc.edu or ecacolleges.com.
About Virginia College and Education Corporation of America
Birmingham, Ala.-based Education Corporation of America is a leader in the post-secondary career school market with current enrollment of over 19,000 students. Holdings include Virginia College, founded in 1983, a private institution of higher education that offers non-degree and associate's, bachelor's and master's degree programs in the areas of Health and Medical, Business, Information Technology, Interior Design, Computer Design, Cosmetology, Culinary Arts and more with locations in 25 different cities in the following states: Alabama, Mississippi, Florida, Tennessee, Georgia, North Carolina, South Carolina, Virginia, Louisiana, Oklahoma, and Texas. Virginia College also offers classes online via http://www.vconline.edu and operates Culinard, the Culinary Institute of Virginia College. ECA also owns and operates the New England College of Business and Finance, in Massachusetts, Golf Academy of America schools in California, Arizona, South Carolina, Texas and Florida as well as Ecotech Institute in Colorado, which is the first and only college focused on preparing students for careers in renewable energy and sustainable design.
ECA schools are accredited by the Accrediting Council for Independent Colleges and Schools (ACICS) which is listed as a nationally recognized accrediting agency by the U.S. Department of Education and is recognized by the Council for Higher Education Accreditation (CHEA). The New England College of Business and Finance is accredited by The New England Association of Schools and Colleges (NEASC). For more information, contact Diane Worthington at (205) 329-7911.