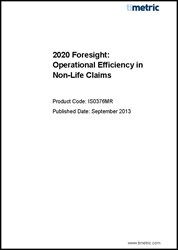 Rockville, MD (PRWEB) September 24, 2013
2020 Foresight Report: Operational Efficiency in Non-Life Claims
Globally, non-life insurance companies have been registering increasing payouts on account of claims. To deal with this situation, non-life insurers have been taking measures to make their claims management processes more efficient to reduce claim payouts and to curb claims-handling expenses.
Non-life insurers are employing advanced technologies to improve their claims management processes. One of these technologies is integrated claims management systems (ICMSs). Non-life insurers have been implementing ICMSs to ensure that they can keep in contact with customers through the customers' preferred devices. ICMSs are also being employed to gain a clearer view of claims data, which will help in identifying fraudulent activity. Non-life insurers have also been using predictive analytics to determine specific choices at the time of claims processing and to determine the long-term business potential of customers so that they can be provided with a better claims service.
Key Highlights:
-Integrated claims management systems, predictive analytics, mobile devices, claims document and content management systems, straight-through processing and telematics are the important technologies being employed by non-life insurers to improve operational efficiencies in handling claims.
-The above technologies are mainly helping non-life insurers to reduce the claims resolution time, the expenses related to claims processing and payouts on account of fraudulent claims.
-The US's Patient Protection and Affordable Care Act (PPACA) has been making non-life insurers improve their claims management efficiencies by increasing the competition through establishment of health insurance exchanges and by restricting the proportion of premiums that can be spent on, among others, claims handling expenses.
-Solvency II is being instrumental in the improvement of claims management efficiencies of non-life insurance companies by linking capital adequacy to, among others, claims-related risks.
The claims ratios of several key non-life insurance markets are increasingly being adversely impacted due to the occurrence of natural catastrophes.
-At the times of economic downturns, there is an increase in payouts on account of fraudulent claims in the non-life insurance segment, especially in developed countries.
To order this report:
2020 Foresight Report: Operational Efficiency in Non-Life Claims
Contact: Shauna
800.298.5699
Customerservice(at)marketresearch(dot)com
About Timetric
Timetric is an independent economic and business research firm providing critical intelligence on emerging economies and key global industries. We provide detailed economic and sector intelligence, business insights and authoritative, independent commentary.
Timetric's flagship products are economic and industry intelligence centers, which are premium decision tools that provide access to comprehensive research and expert analysis. They provide invaluable decision support presented in easily digestible formats and grounded in deep research.
About MarketResearch.com
As the industry leader in market research, Marketresearch.com helps you make the difficult corporate decisions you face every day. We provide consumer research and business data to guide you through the complex and dynamic business world in which we work. We are analysts and account managers, writers and publishers and we all share the same goal – to help you better understand your customer, market and competition; and to help you drive your business growth.
Call us, email us, like us, or follow us – but do get in touch. We're here to help. For more information, call Cindy Frei at 240.747.3014 or visit us at MarketResearch.com.
2020 Foresight Report: Operational Efficiency in Non-Life Claims – Table of Contents:
1 Executive Summary
2 Global Snapshot
2.1 Analysis of Key Performance Indicators
2.2 Key Trends and Drivers
3 Functional and Operational Impact of Regulations on Non-Life Claims
3.1 Patient Protection and Affordable Care Act
3.2 Solvency II
3.3 Regulations Propelling the Adoption of Usage-Based Insurance
4 Technology Trends in Non-Life Claims
4.1 Integrated Claims Management Systems
4.1.1 Introduction
4.1.2 Trends, drivers and challenges
4.1.3 Implementation strategies
4.2 Predictive Analytics
4.2.1 Introduction
4.2.2 Trends and drivers
4.2.3 Implementation strategies
4.3 Claims Document and Content Management Systems
4.3.1 Introduction
4.3.2 Trends and drivers
4.3.3 Implementation strategies
4.4 Mobile Solutions
4.4.1 Introduction
4.4.2 Trends, drivers and challenges
4.4.3 Implementation strategies
4.5 Straight-Through Processing
4.5.1 Introduction
4.5.2 Trends, drivers and challenges
4.5.3 Implementation strategies
4.6 Telematics
4.6.1 Introduction
4.6.2 Trends, drivers and challenges
4.6.3 Implementation strategies
5 Market Dynamics Related to Economic Risk
6 Appendix
6.1 Methodology
6.2 Contact Timetric
6.3 About Timetric
6.4 Timetric's Services
6.5 Disclaimer
List of Tables
Table 1: Claims Ratios Registered in Key Non-Life Insurance Markets in 2008 and 2012
Table 2: Non-Life Insurers' Claims Function – Key Trends and Drivers
List of Figures
Figure 1: ICMSs – Trends, Drivers and Implications
Figure 2: Predictive Analytics – Trends, Drivers and Implications
Figure 3: Santam's Deployment of Predictive Analytics to Fight Fraudulent Claims
Figure 4: Discovery's Deployment of Analytics Infrastructure to Speed Up Data Processing
Figure 5: Claims Document and Content Management Tools – Trends, Drivers and Implications
Figure 6: Support Provided by Mobile Solutions in the Event of a Car Accident
Figure 7: Mobile Solutions – Trends, Drivers and Implications
Figure 8: ICICI Lombard's Empowering its Motor Insurance Customers with a Mobile Application
Figure 9: Aetna's Deployment of Mobile Application to Enable Faster Refunds
Figure 10: STP – Trends, Drivers and Implications
Figure 11: Telematics – Trends, Drivers and Implications