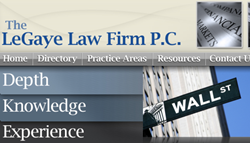 "I am pleased that the existing guidance from FINRA has finally been codified into the Net Capital Rule. This should lead to further clarity for broker-dealers when computing their net capital." Michael R. Schaps, Director of Regulatory Compliance
(PRWEB) September 20, 2013
The LeGaye Law Firm has published an article on their website detailing the July 31, 2013 amendments to the Financial Responsibility Rules for Broker-Dealers (Release No. 34-70072; File No. S7-08-07) announced by the Securities and Exchange Commission (SEC). The amendments impact the net capital rule, customer protection, books and records and notification rules for broker-dealers. The rule amendments will become effective October 21, 2013.
"I am pleased that the existing guidance from FINRA related to intercompany expense agreements and office sharing agreements has finally been codified into Net Capital Rule 15c3-1," Michael R. Schaps, Director of Regulatory Compliance for The LeGaye Law Firm, PC, stated. "This should lead to further clarity for broker-dealers when computing their net capital."
The key amendments to the Net Capital Rule now requires deductions from net worth for liabilities or expenses assumed by third parties; deductions from net worth for non-permanent capital contributions; and deductions for excess fidelity bonds as established by an SRO. For full details and to learn how to address these changes moving forward, visit The LeGaye Law Firm.
About The LeGaye Law Firm
We bring knowledge and experience to address the complex legal and practical registration, regulatory and compliance questions and challenges facing broker-dealers and investment advisors. To that end, our professionals have extensive experience with the SEC, FINRA, NFA, and state securities regulators. To find out more, click here to visit our web-site.