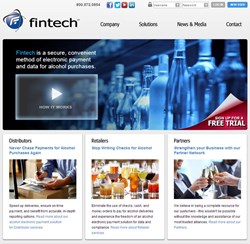 Tampa, FL (PRWEB) September 19, 2013
Fintech is proud to announce the launch of their newly redesigned website, http://www.fintech.net.
The site boasts a fresh modern look, enhanced navigation, and in-depth information on Fintech's efficient, cost saving alcohol data and payment solutions. Additional features include new product information, more Frequently Asked Questions, a monthly Blog, access to Fintech social media sites, and much more.
Fintech, the leader in providing electronic data and payments for the alcohol industry, redesigned their website to ensure the most up-to-date and informative experience possible for visitors.
"Our goal is to make life easier for our current and potential clients; and this new website is just one more way to do so. I believe these enhancements complement our existing products and strongly represent our ongoing commitment to servicing the alcohol industry though innovative and state-of-the-art technology," said Fintech's CEO, Scott Riley.
The launch of the new website does not affect Fintech's existing FTX system. All current customers are able to login through http://www.fintech.net as normal.
About Fintech
Fintech, a U.S. Chamber of Commerce Best Business of the Year winner located in Tampa, Florida, provides electronic data and payments to the alcohol industry, eliminating the need to pay alcohol purchases by cash, check, or money order. Fintech now serves over 260,000 relationships in all 50 states.
For more information on Fintech, go to http://www.fintech.net.