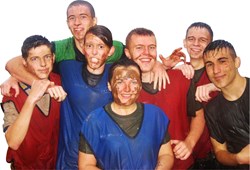 I feel that education and training is critical in giving people a sense of worth and self belief and I am surprised that this is not right up at the top of the government's agenda.Huw Lewis MBE
(PRWEB UK) 23 September 2013
It was reported in last weekend's Daily Mail that actress Joanna Lumley wants to create a 'Jo's Army' to instil a sense of discipline and pride in troubled teenagers. She told The Mail on Sunday: "There are all these fit, strong young men who are bursting with physical energy but have no place to use it.' Under her proposals, boys would be put into squads headed by 'strong leaders' and given challenges and targets.
Her comments coincide with the second anniversary of the summer riots in 2011 which saw widespread disorder in many English towns, sparking a national debate about the causes of such an incident and how best to tackle them.
The scale of the episode made it necessary for the government to respond in a detailed manner and propose new initiatives to tackle the causes of youth disengagement. A cross-party panel produced a document suggesting various strategies which would be implemented, many aimed at re-engaging young people, particularly boys, in a society which had become increasingly fragmented.
However, research from David Lammy, the Labour MP for Tottenham, north London, indicated that just a handful of the 63 proposals made by the panel into the riots had been implemented 18 months after the report. Among the 11 recommendations that have been accepted or implemented is measures to help youngsters to cope with the pressures of advertising and materialism. Among those rejected or not implemented is action to stop young people going without education, employment or training.
Huw Lewis MBE, Managing Director of the Military Preparation College commented: "Many young people today feel the pressure from consumerism. The government is right to be concerned about the impact of advertising and materialism. However, I feel that education and training is critical in giving people a sense of worth and self belief and I am surprised that this is not right up at the top of the government's agenda. Education in a targeted sense promotes an interest in the world around young people and their role within it. This ensures that they are engaged and motivated, in order that they can be successfully educated for rewarding futures."
The views of many young people were collected following the disorder. Many spoke of a lack of hopes and dreams for the future – particularly because they feel there was no clear path to work in an age of record youth unemployment. It also emerged from the comments made that young people don't concentrate highly enough on building 'resiliance and self-confidence' during their school years. This can lead to feelings that they are not able to take control of their futures and work systematically towards an end goal.
The 'After the Riots' report also made it clear that '...there should be a new requirement for schools to develop and publish their policies on building character.'
Joanna Lumley's proposals are designed to build character, resiliance and self-confidence in young people by making them feel part of something worthwhile and celebrate their positive attributes. This is a view echoed by Huw Lewis MBE, who said: "Many people are now suggesting that there is a lack of basic core values in young people. However, for the last 14 years the Military Preparation College has been building character and developing self-confidence in young people, preparing them for rewarding futures, not necessarily in the Armed Forces.Over the years, I have seen that given strong direction in a suitable environment, almost all young people flourish and make positive contributions to society."
Joanna Lumley would also approve of the number of Nepalese learners on the programme, since she has been a strong campaigner for the rights of Gurkhas. The 22 young Nepalese learners at the Farnborough centre would exhibit exactly the right determination and strength of character to form one 'gang' of Jo's Army, as would any of the other 750 learners currently training at the college.
About The Military Preparation College:
The Military Preparation College was formed in 1999 by its Managing Director, Huw Lewis MBE and prepares young people for a career in the Armed Forces or other vocational pathway. It currently trains over 750 learners in 14 locations throughout England and Wales. For more information, please call 08442 438438.