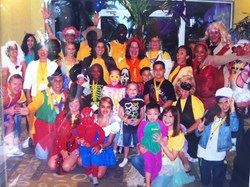 'It only makes sense that Bluegreen would be involved with Deliver the Dream,' said Grace Ultsch. 'We spend the majority of our waking hours ensuring that our owners and their families are able to take vacations and make memories that last a lifetime.'
Orlando, FL (PRWEB) September 19, 2013
Bluegreen Corporation, a leading vacation ownership marketing, sales and hospitality company, proudly announced today that it will be partnering again with Deliver the Dream, a Fort Lauderdale based non-profit that aids families suffering from serious illness or crisis. As part of the Deliver the Dream program, Bluegreen will host 10 families at The Fountains Resort in Orlando for a weekend retreat September 20-22, 2013.
Deliver the Dream creates programs that enable families undergoing crisis or chronic illness to regain strength, mend spirits and enjoy being parents and children again. The program organizes three-day retreats that allow family members to alleviate stress, enhance coping skills and enjoy time together. They include workshops for family members that address issues such as improved communication, anger management, self-esteem building, accepting loss, fighting depression and affirming strengths. This year, The Fountains is hosting families who have children with Down's Syndrome.
The Deliver the Dream program remains free for families, thanks to the generous donations and contributions from sponsors, partners and volunteers. Bluegreen both sponsors and provides volunteers for the program.
"Deliver the Dream is incredibly excited to once again be able to offer our families a once in a lifetime retreat experience at the beautiful Fountains resort as a result of the philanthropic generosity of Bluegreen Vacations," said Paul Withrow, Executive Director for Deliver the Dream, Inc. "Bluegreen Vacations and its generous employees practice a philanthropic culture that will, for the third year in a row, be the core reason this Deliver the Dream retreat is possible. As a result of their generosity, Deliver the Dream continues to have a significant impact on the lives and wellbeing of families in crisis and in need.
Grace Ultsch is one of seven Bluegreen Associates that will be driving to Orlando from South Florida on Friday to volunteer for the weekend event. Two associates from Bluegreen's Daytona Seabreeze Resort are also volunteering.
"This is my third year of volunteering at a retreat and each time, I come back with a new and unique perspective on things," said Grace. "These families struggle with something so foreign to me but they do it with such grace and strength that it's hard not to return each year."
Grace says a company like Bluegreen is an ideal partner for organizations like Deliver the Dream who strives to improve the lives of others.
"It only makes sense that Bluegreen would be involved with Deliver the Dream," she said. "We spend the majority of our waking hours ensuring that our owners and their families are able to take vacations and make memories that last a lifetime. It's a logical step to merge our business with our passion for helping by providing the resources for these families to do the same."
Paul agrees. "Donating accommodations as well as significant employee personal time for the retreat has made Bluegreen Vacations an invaluable corporate citizen to Deliver the Dream and so many other South Florida charities," Paul said. "There is no doubt in my mind that they set the bar for other community partners to reach."
ABOUT BLUEGREEN CORPORATION
Founded in 1966 and headquartered in Boca Raton, FL, Bluegreen Corporation is a leading timeshare sales, marketing and resort management company. Bluegreen Vacations manages, markets and sells the Bluegreen Vacation Club, a flexible, points-based, deeded vacation ownership plan with more than 170,000 owners, over 60 owned or managed resorts, and access to more than 4,000 resorts worldwide. Bluegreen also offers a portfolio of comprehensive, turnkey, fee-based service resort management, financial services, and sales and marketing services on behalf of third parties.