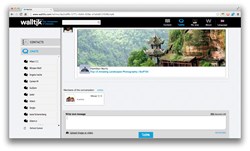 With TellMe, users can share and discuss Walltik publications, import external post, and send text, image, and video messages to friends
Barcelona, Spain (PRWEB) September 20, 2013
Walltik, an ecosystem of visual interests, was recently launched to help users organize their high value virtual content. The launch included an integrated chat platform called TellMe, where users can share their findings with only a select few individuals rather than all users across the globe.
Walltik helps users organize their content in a more organized, structured and neat way than other virtual content sites. It provides publishers, like bloggers and brands, the ability to upload videos and images to enrich the experience of Walltik users. Walltik's platform serves as a single location to seek good content consumption and recommendations. Walltik also tries to help professionals looking for great content. Walltik has built a blogger market to briefly gather and talk directly to targeted blogs for brands that are keen on finding high value content creators in one platform. It also tries to take visual content creation into the users own hands, not only by organizing and sharing the content created by others but by providing an opinion on the post created in order to provide various ways at consuming content.
With TellMe, users can share and discuss Walltik publications, import external posts, and send text, image, and video messages to friends. TellMe tries to curate content, helping the user focus on what is important at that precise moment. For example, if a user is interested in learning about the best fashion outlets, they could search for a blogger's opinion on the best places to visit around Barcelona, New York, Paris or London, or directly share the question in an open chat post. The user's opinions and what they find are of value to other Walltik users when an open chat begins through TellMe.
Walltik can also be organized into short and long-term interests. Conversations can be split into public and private and at the same time, the platform enhances the confidence of the users, regardless of their nature (liberal arts professional, blogger, brand, company, internet addict, etc.), for creating, sharing and organizing their content at all means and levels.