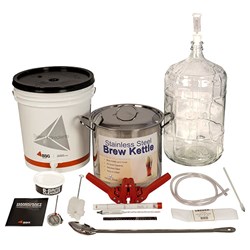 Austin, TX (PRWEB) September 19, 2013
Kegerator.com has long been known to provide the highest quality home brewing and dispensing products at the lowest possible prices. This includes a wide range of beverage refrigerators, draft beer components, barware accessories, and of course kegerators. The new lineup of kegerator kits and home brewing tools is sure to please even the most distinguished home brewers.
Kara Zorn, Director of Category Management stated, "We are extremely excited about the upcoming launch of the new lineup of products hand-selected specifically for home brewers. Each item has been tested and researched to ensure it meets the highest standards of reliability, quality, and affordability."
Zorn went on to say, "Up until recently, our primary focus at Kegerator.com has been on draft beer components, kegerators, and beverage refrigerators. After taking into consideration a significant amount of feedback from our satisfied customers, we believe we have identified the perfect new lineup of products to exceed their expectations."
Zorn said, "This new lineup highlights everything that has allowed us to garner such a strong following of loyal customers. The timing couldn't be better as we just recently celebrated our 13th year of exceeding the expectations of our customers one order at a time."
Kegerator.com is a website owned and managed by the Living Direct family. Follow them on Facebook to discover more about their amazing products, discounts, and giveaways.