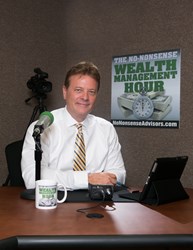 [Re: Work Ethic] I had a deep desire to be excellent, whether it was delivering the papers in bad weather, building houses, selling package policies with Met Life, or offering more extensive products to an affluent clientele. --Rik Saylor
Middletown, OH (PRWEB) September 20, 2013
As a teenager collecting for his paper route, Rik learned one of the most valuable lessons – how to ask for the money. As a young construction worker on wet roofs during the winter and summer, he realized another fact - he wanted to work more with his mind than with his hands. "If you trip on a few words there is no harm done, but you don't want to trip while covering a wet roof." This led him to a position with Met Life selling their full product line: life medical, annuities, property and casualty.
Although Met Life had a good basic training program, he felt the drive and desire to expand his knowledge. Mentors were important. He looked to John Reichert for higher caliber training that he needed to succeed. Rik realized that "The elements I needed were best learned from mentors, not from books or distance learning. I found how to locate excellent mentors who were doing the things I wanted to do. I watched and learned their skills and then tweaked their techniques for me."
From his lifetime of tweaking and learning, Rik has developed an integrated, holistic wealth management model to help clients grow, use and keep their wealth. Out of his primary office in Fairfield, Ohio, he gives folks straight talk that will help them make clear decisions. At times, and with some products, he uses partners such as attorneys or insurance wholesalers for such needs as probate avoidance, estate planning and elder law.
Through his association with the IARFC, Rik has come to appreciate the need for Branding. He utilizes the Register, the Journal of Personal Finance and the workshops and strengthens his market presence through Social Media, videos, e-newsletters and radio spots. To help others get their message out he has formed a small business – Infinity Marketing. IARFC CEO Ed Morrow expressed, "Rik has built a solid brand by careful attention and always putting customer's interest first."
The once poor, but forever smart and determined individual continues to look for new markets and ways to give his time, talent and treasure to a multitude of charities. On the future of the financial services profession he states, "We will be experiencing a narrowing and refinement of the profession. The best will survive and thrive – by providing planning and not peddling packaged products."
To find Rik– visit http://www.nononsenseadvisors.com and http://www.riksaylorfinancial.com. His five star customer service staff is there to assist with client inquiries and service.