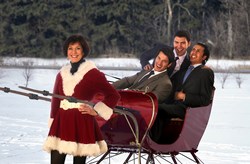 Washington, D.C. (PRWEB) September 19, 2013
Planet Depos LLC, a court reporting and legal videography firm, has entered the Intuit Quickbooks Small Business Big Game contest, with the chance of winning the opportunity of a lifetime – a 30-second commercial that will air during Super Bowl XLVIII on February 2, 2014.
Contestants in the Small Business Big Game contest are asked to submit the story of their businesses and rally supporters through online voting. Entries must be submitted by September 22, 2013, at which time the field is reduced to the top 50,000 vote-getters. In Round 2, small businesses must create a video in response to specific questions, at which point the public is invited to vote. The field is eventually narrowed to 20, then 4 semi-finalists, with the grand prize winner announcement in early December.
Planet Depos' small business story is one of beating the odds in a down economy. With the Great Recession of 2008 as the backdrop, three brothers risked it all with a playbook consisting of just one defensive strategy – "guts," and one offensive move – "get one client and keep 'em." With their Mom's success in the industry as an inspiration, the DiMonte Brothers – William, Joseph, and Nico – hit the market with just one client. Loyal to a client-centric brand promise of "We Make it Happen," Planet Depos expanded the client list of just one to more than 2,000, today providing court reporting and legal videography services in more than 60 countries. When asked what they're most proud of, all three brothers agree: "Client #1 is still with us."
Intuit covers the cost of developing and producing the commercial, as well as the cost of purchasing 30 seconds of advertising during the airing of Super Bowl XLVIII, with an expected audience of more than 121 million viewers. Vote for Planet Depos.
About Planet Depos
Planet Depos is the only international court reporting agency led by court reporters with proven track records in the industry. Planet Depos provides best-in-class court reporters, videographers and interpreters throughout the United States and abroad to U.S. and international law firms, worldwide corporations, and government entities. With extensive experience in the management of cases of every size, including state, federal, ITC, cross-border, antitrust, and multi-district litigation taking place around the globe, Planet Depos has offices throughout the U.S. and six offices in Asia.