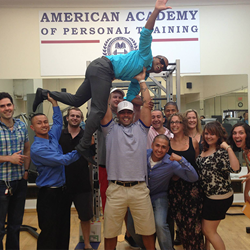 We really love seeing our graduates happy and working!
(PRWEB) September 19, 2013
Earlier this month, AAPT hosted Career Week at their Boston location—a week-long schedule of private tours, presentations, and workshops to help soon-to-be-graduating students get oriented in the job market.
While touring some of the city's top fitness clubs, students were able to meet with hiring managers and learn about the employment opportunities available. Workshops led by guest lecturers John Pantera (Director of Franchise Support and Development, Fitness Together) and Steve Satin (Founder of Satin Wellness and the LROME Certification) focused on helping students develop skills related to business practices, sales, professional growth, and entrepreneurship in personal training.
AAPT's consistent job placement rate of 90% is a testament to the effort that is put into helping their graduates find successful careers in a quickly growing industry. "We meet with each student individually to go over resumes, talk about how to dress for interviews, help make connections with hiring managers, prep for Career Expos…whatever it takes!" says Ben Moll, Placement Coordinator at AAPT Boston. "We really love seeing our graduates happy and working." AAPT owner Harry Hanson added, "offering our students federal financial aid allows those that otherwise couldn't afford tuition an opportunity for an exciting career in the fitness industry."
At all AAPT locations, the school offers a variety of graduate placement services, including individual career guidance, employer networking, monthly updates on job openings, and quarterly in-house Career Expo events where local employers are invited to meet and greet with AAPT students. Even in the months and years following a student's graduation, AAPT's placement staff is always available to extend a helping hand to its graduates.
Headquartered in New York City with a branch in Boston, AAPT is a nationally accredited, private occupational school, widely recognized for its innovative approach to hands-on personal training education. AAPT's intensive 300-hour curriculum combines equal parts classroom lecture and laboratory instruction, covering subjects including exercise science, customized programming, injury prevention and business planning.