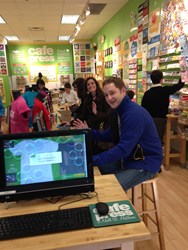 ... this is a real treat to be able to support locally grounded partners who have worldwide reach like CafePress.
Louisville, KY (PRWEB) September 20, 2013
E-commerce giant CafePress (PRSS) is a Session Sponsor at next week's IdeaFestival hosted at the Kentucky Center for the Arts and will showcase their turn-key solution for mass personalization. Joining CafePress is Louisville's 120-year print industry veteran, FetterGroup and the world's largest manufacturer of flat hard-surface substrates, Universal Woods. All three companies are headquartered in Louisville, KY since (CafePress moved their headquarters from San Mateo, Calif. to Louisville, Ky. in April of last year).
In the lobby of Idea-Fest, CafePress, a one-stop-shop for consumers seeking personalized products like smartphone cases, coasters, t-shirts, tote bags or mugs, will explain the logistics behind their success in mass personalization. Attendees can Tweet a photo to Cafe Press for an on-the-spot personalized shot glass or smartphone case.
"IdeaFestival is a great opportunity for CafePress to bring our unique, print-on-demand process and show the community how the innovations work when they order from us," said Jason Falls, CafePress's Vice-President for Digital Strategy. "When you order from an online retailer, you just get your package and don't actually see what goes into the creation of that product. This allows us to bring all that technology and innovation out from behind the curtain and show folks our 'wow' factor. The Universal Woods' SwitchCase execution we've planned not only does that, but gives the participants something cool to take home with them, too."
To demonstrate the technical process further, local partners FetterGroup and Universal Woods are collaborating efforts to give away free iPhone 5/5S, iPhone 4/4S and Samsung Galaxy SIII cases on behalf of CafePress to showcase the personalization process start to finish for IdeaFestival attendees.
FetterGroup has provided unique printing technologies and solutions for over a century, will highlight 3D (Rapid Prototyping) printing to illustrate how this technology assists, and is implemented into advanced manufacturing processes. "We are always exploring technologies to make our printing processes more dynamic and efficient. We are thrilled to showcase 3D printing as part of the manufacturing spectrum and demonstrate the unique ways we use this exciting technology," said Dayna Neumann, EVP of Marketing and Strategy for FetterGroup.
Universal Woods is the largest manufacturer of hard-surface sublimatable products in the world. The sublimation process requires that heat and pressure infuse unique inks into a specialty surface coating, creating a super vibrant and durable image. Seeing a need in the market, Universal Woods added mobile device cases to their product line in 2012.
"The sublimation process produces a superior image and color reproduction for personalized products which can be purchased by consumers at retailers like CafePress," says Brad Sidio, Mobile Device Program Manager at Universal Woods. "Being the manufacturer we don't often get to interface with the end-consumer, so this is a real treat to be able to support locally grounded partners who have worldwide reach like CafePress."
IdeaFestival will be hosted at the Kentucky Center for the Arts from September 24 – 27. For more information visit http://www.ideafestival.com/about-if.
About:
Idea-Festival: http://www.ideafestival.com/about-if
Cafe Press: http://www.CafePress.com
FetterGroup: http://www.FetterGroup.com