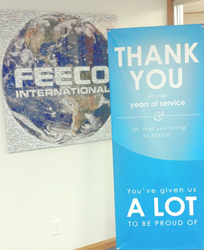 Thank You for your years of service and all that you bring to FEECO. You've given us a lot to be proud of.
Green Bay, WI (PRWEB) September 18, 2013
According to the Bureau of Labor Statistics in an article by Business Insider, the average American employee stays with a company for 4.6 years. At FEECO International, this is not the case. FEECO has 39 employees that have been with the company for at least 20 years, many over 30, and even some over 40.
This year marks a lot of milestones for FEECO employees, who have spent decades with the company, engineering and manufacturing heavy-duty process equipment. FEECO will be throwing a company-wide party to honor those employees, and to celebrate their commitment to the company.
"We're a family here and that's why people stay," said FEECO President, Dan Madigan. "We are very proud of each and every employee, along with the commitment and knowledge they bring together to make our company so successful."
Aside from Founder Jim Madigan, who has been at the company for 62 years, the current longest employed FEECO employee has been with the company for 41 years.