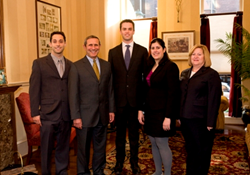 (PRWEB) September 20, 2013
Pozzuolo Rodden P.C., Philadelphia Estate Planning Lawyers, announces the question of the month: "How can a beneficiary remove a corporate trustee in favor of a different trustee if the beneficiary is not satisfied with the current corporate trustee's services"? Below is a sample of the first couple of paragraphs. If you would like to read more, please read the full article and other business law, or estate planning topics at http://www.pozzuolo.com
First, he should check the trust document to determine if there is a "portability" clause which allows removal of the corporate trustee and appointment of a successor trustee, thereby making the trust "portable" from one corporate trustee to another. If the document has one, then he follows the document's provisions. If the trust document does not contain a portability clause or the relevant portability clause is inadequate to effect removal, the beneficiary may have to petition a court to remove the corporate trustee.
Fortunately, in Pennsylvania, a corporate trustee may be removed from its office despite the trust document's lack of a portability clause. Section 7766 of the Pennsylvania Probate, Estates and Fiduciaries Code permits removal of a trustee. Specifically, section 7766 permits removal where there has been "fault" on the part of the trustee such as, for example, when the trustee has committed a serious breach of trust. Section 7766 also allows removal in "no fault" situations. Whether a trustee may be removed where there is no fault is not as clear cut. However, in a recent case, In re McKinney, 2013 Pa. Super. 123 (Pa. Super., May 21, 2013), the Superior Court of Pennsylvania addressed trustee removal and, applying the no fault removal provision, effected removal of the corporate trustee pursuant to the beneficiaries' request.......
If you would like to read more, please click here.
Contact our Philadelphia Business & Estate Planning law firm with your questions, comments or concerns.
Pozzuolo Rodden, P.C. Counselors at Law is located in Philadelphia, PA & Cherry Hill, NJ and serves clients throughout Bucks, Chester, Delaware and Montgomery counties in Pennsylvania and Camden, Burlington, and Gloucester counties in Southern New Jersey.
Pozzuolo Rodden, P.C.
Counselors at Law
2033 Walnut Street
Philadelphia, PA 19103
215-977-8200
http://www.pozzuolo.com